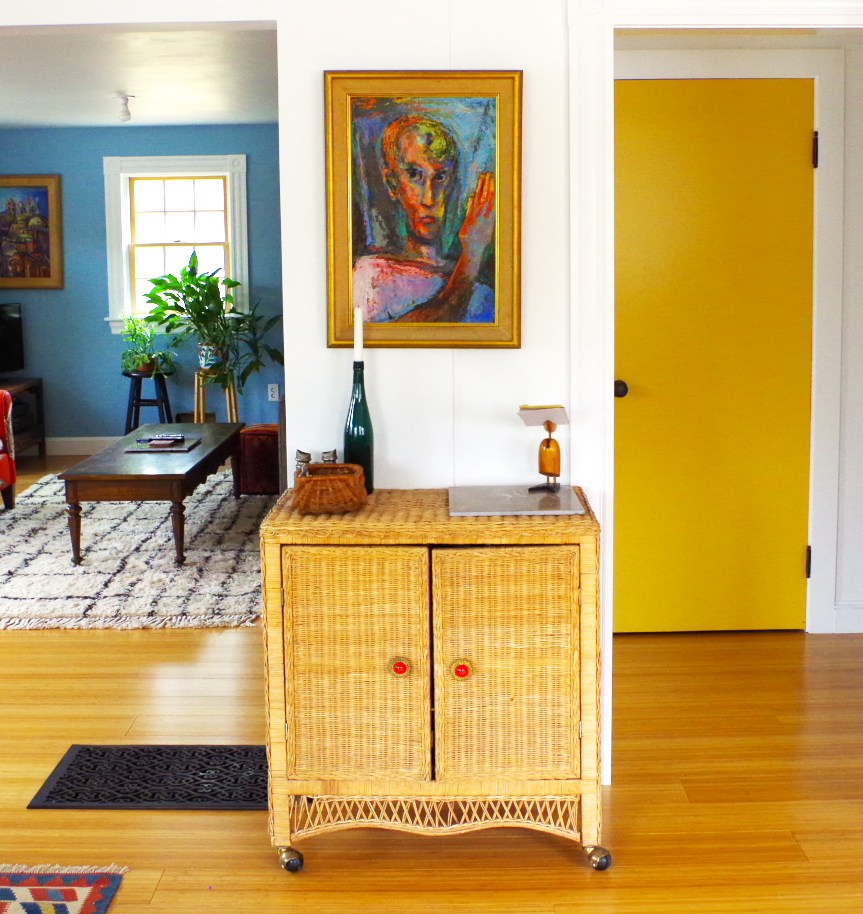 Brad and I have been dragging this dreary 1950s ranch, kicking and screaming, into some semblance of shape since July 2012.  We're in the middle of the process to transform it into a home that merges the traditional colonial features of our neighborhood with a bit of a modern and southwestern twist.
We started with beige walls, smelly green carpet, small boxy rooms, and a whole host of other problems.  After a renovation that included removing walls, tons of new windows, a lot of demo, and new floors, we have this floor plan:
MUCH BETTER.
You enter through the side of the house (which we are turning into the "front" of the house) right into the kitchen.
Here, we've cobbled together a "deconstructed entryway," with a shoe-dropping station beside the door and a catch-all spot for mail, notes, and other useful items against a small wall facing the door.  I love how the lined up shoes look like they're worshiping their ancestors.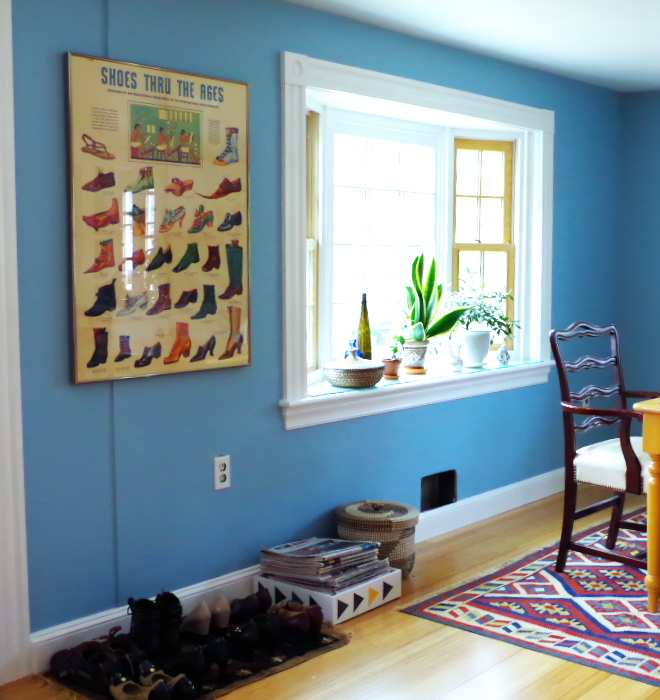 Of course, we still have a lot to do, like paint the old door and bring in more storage and organization.
In our renovation we opened the kitchen up, so it now has no wall dividing it from the dining room.  Believe it or not, this used to be a tiny room with yellow walls, yellow counters, yellow backsplash, and yellow and orange vinyl floor.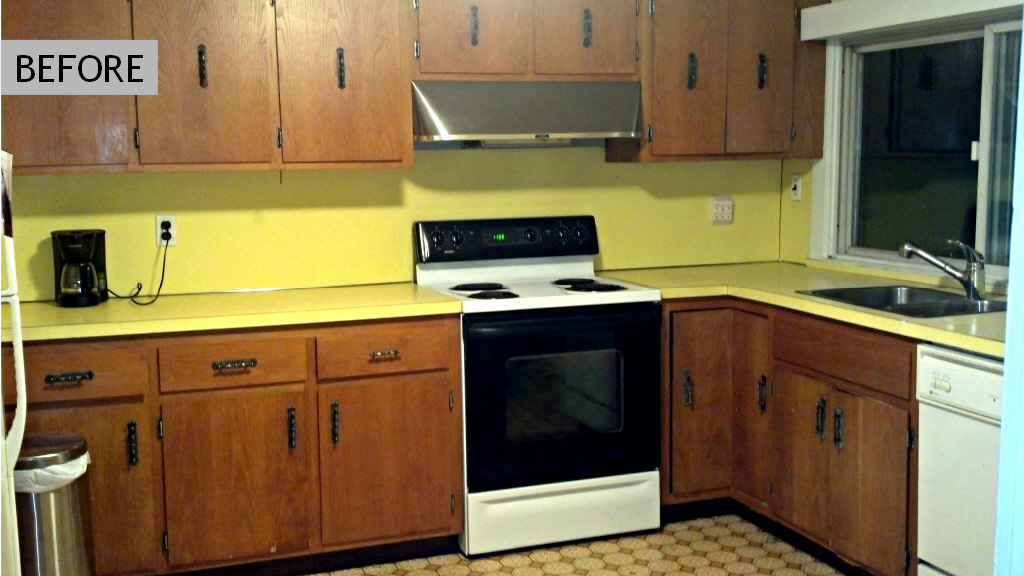 New bamboo floor now helps it flow with the rest of the house, and we've installed a new laminate counter in blue-gray with a hint of shine, and also a new faucet.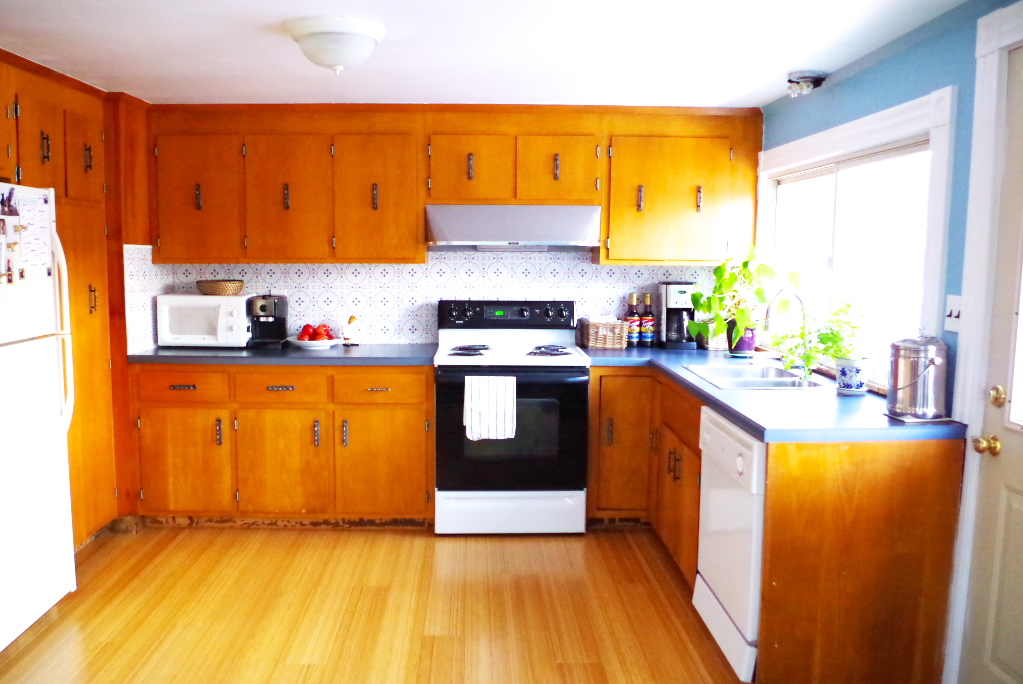 The backsplash is a temporary solution (using renters wallpaper) while we figure out what to do with the cabinets, which are in rough shape and have handles right in the middle of the doors IN CASE YOU HAVEN'T NOTICED I SURE HAVE.  We'll eventually also get new appliances and lighting, as well.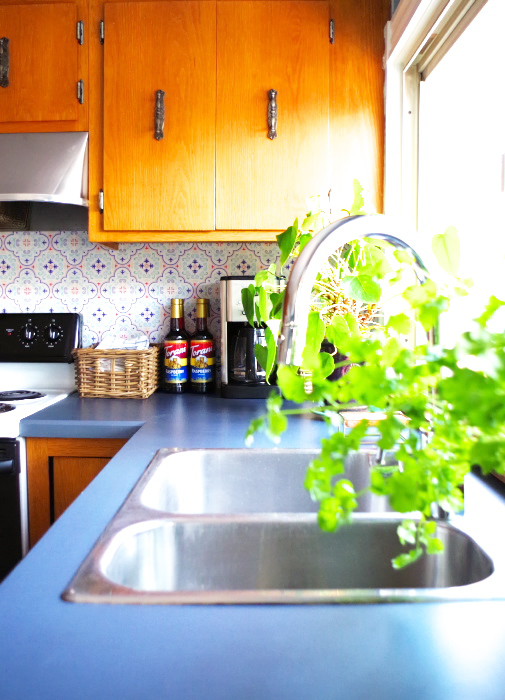 But for now we're just really happy that it is open and bright.
The kitchen flows right into the dining room, which we now imagine is a very large and luxurious eat-in kitchen.  This used to be totally closed in with a wall of built-in cabinets and shelving dividing it from the kitchen, and another cabinet blocking it from the living room.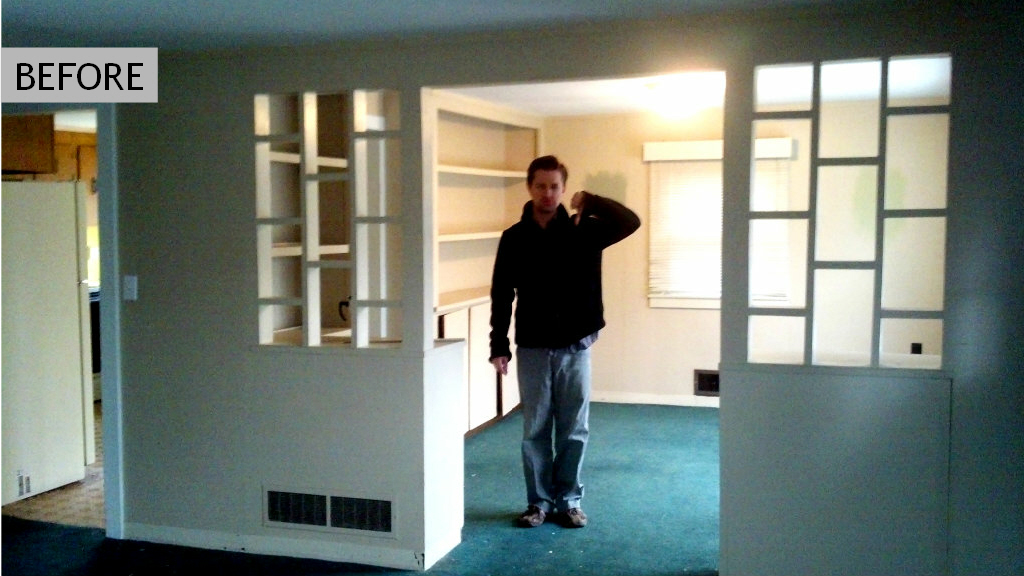 Although there is not enough space to put in an island in the middle, I love the "enforced open space," which lets me cram stuff into the other rooms without the whole house feeling cramped.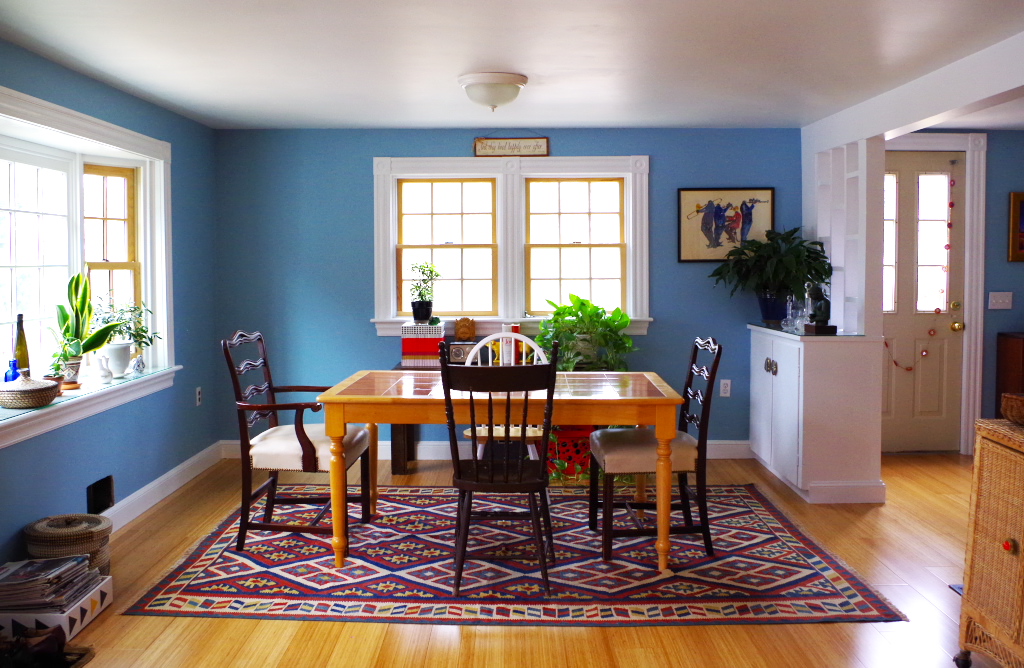 We'll eventually replace the dining table and some of the chairs, but for now it is the right size and works just fine.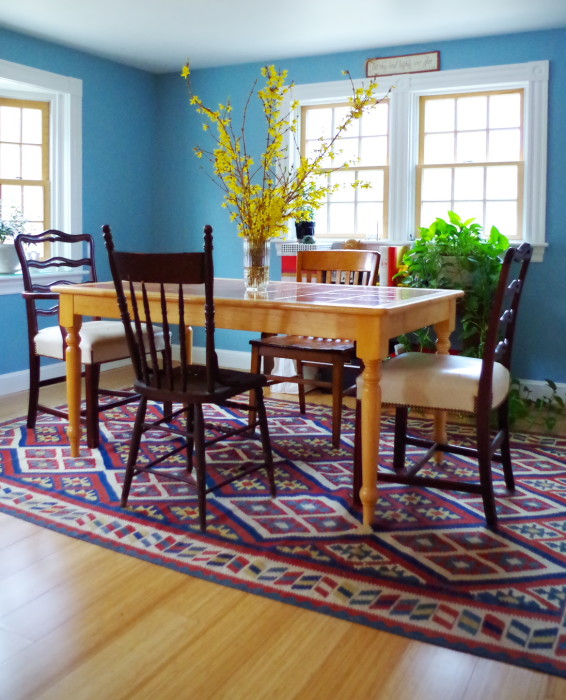 We added the bay window to bring in extra light and make space for plants, and covered it with custom-cut glass to protect the wood.
The built-in is one of two original to the house, and we kept this one safe from demo during our renovation for storage and to provide some separation between the living and dining rooms.  Now that it is painted white and is no longer symmetrical to its "mate," I love the lightness and interest it brings to the space.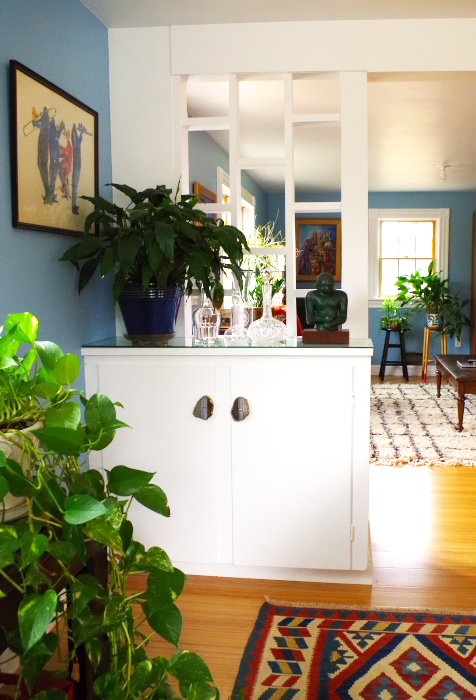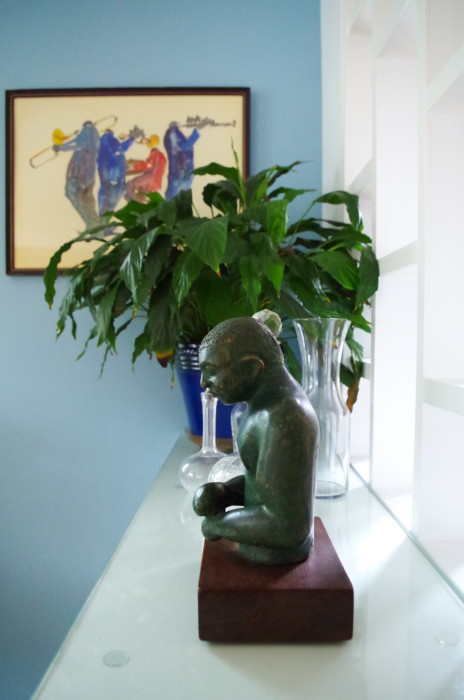 Next to the dining room is the living room.  This used to follow the same beige and green color scheme, and was super dark with an old porch blocking a lot of the sunlight.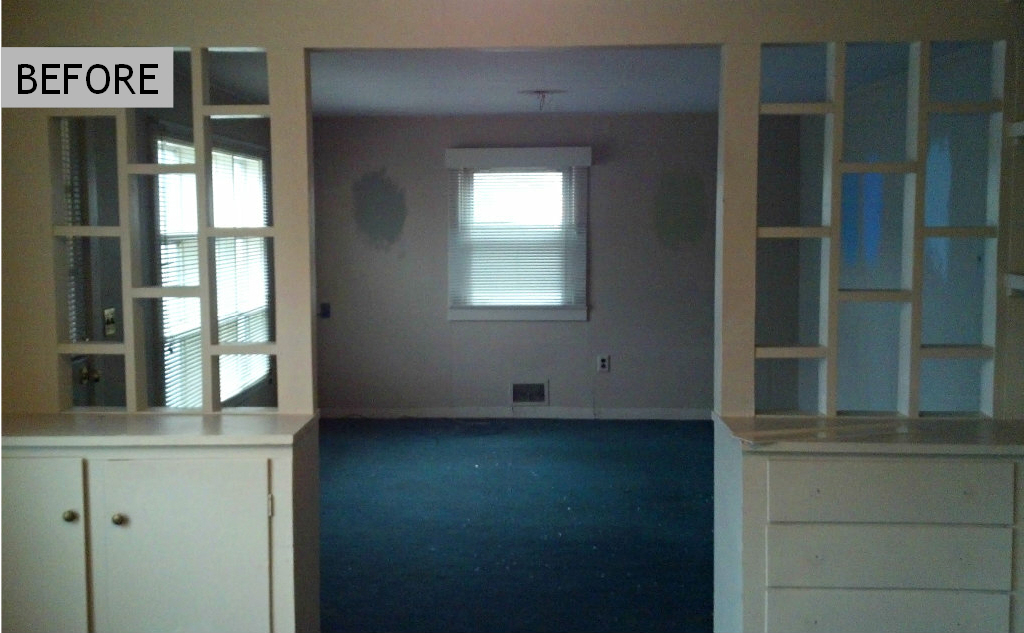 While I would cover everything in a bright pattern if I could, I thought a neutral rug and couch would give me the freedom to play more with art and accessories in the living room.  We want it to be calm and relaxing, since it is where we spend most of our time.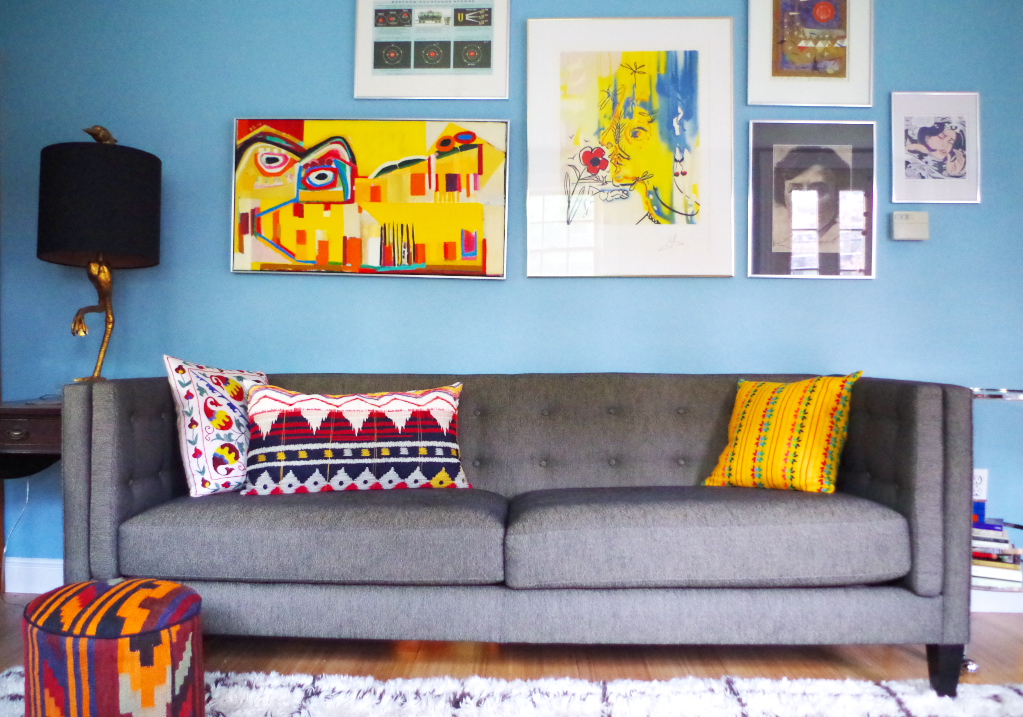 Both the couch and rug are from Crate and Barrel.  We spent a ton of time (like over a year) living without a couch trying to find one that we loved that could be made without flame retardants (which are quite toxic).  The red chair was a gift from my parents from Circle Furniture and the bookshelf was a gift from Brad's parents.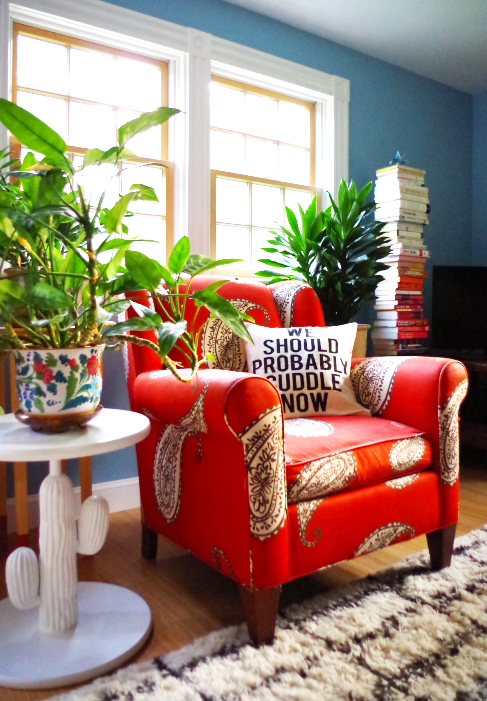 I love that we can bring a lot of art into this room.  Some pieces we bought together, like the one over the small chest of drawers which we got in our first year dating on a trip to Provincetown, MA.  Under it is a display case for some of Brad's collection of carvings.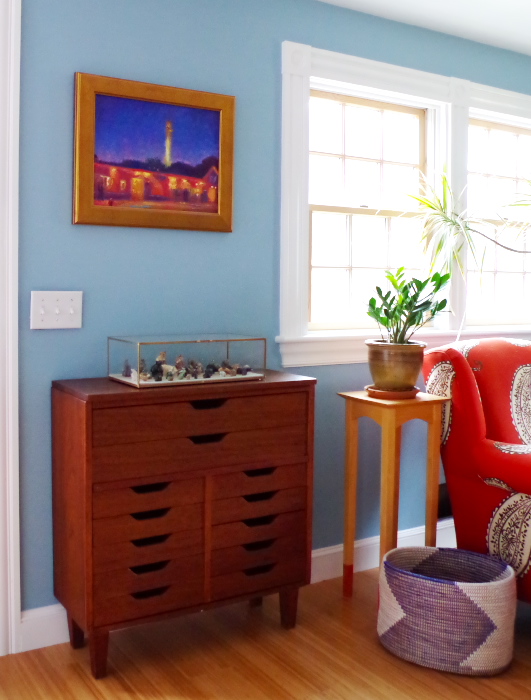 Others were gifts from our families, or pieces that we have had for a while.  In our gallery wall we have pulled in many memories and traditions, which come together to really express the bright colors we are trying to infuse throughout the house.
On the bookshelf, we display sentimental items, some of Brad's awards, and more of his collection of Zuni Fetish carvings.  In front of it is the Ibis Table Lamp by Cyan Designs, which I had stalked on Pinterest for years before Brad got it for me as a gift.  It is the fanciest thing I own.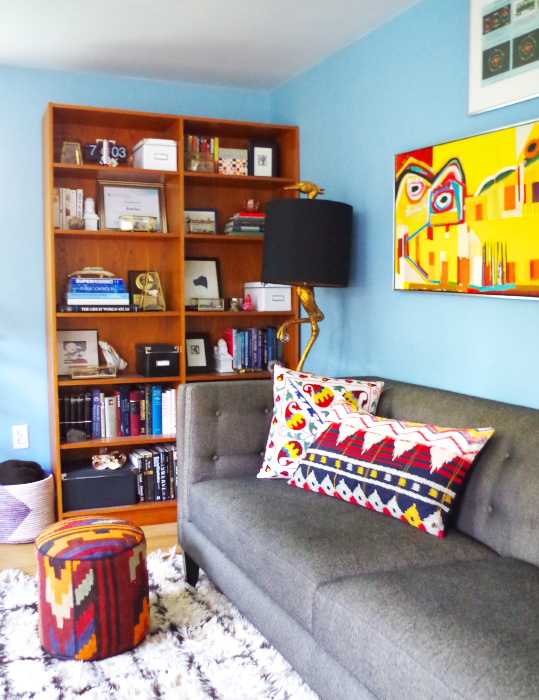 The rest of the house is all connected by a long hallway, which used to be really dark and sad.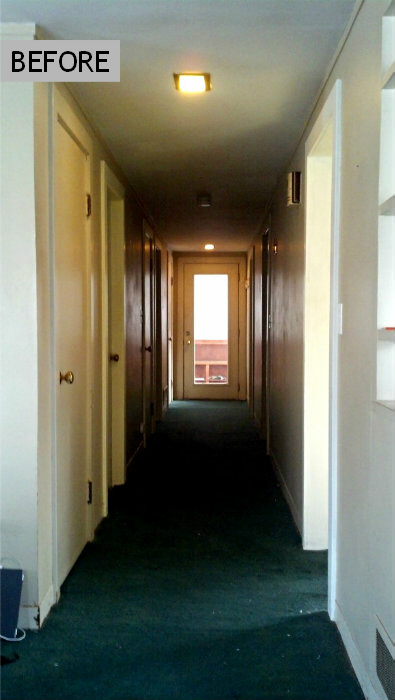 Because it is so central and windowless, we painted it a clean white, but painted the boring hollow-core doors bright yellow to bring in some fun and color.   While we were at it, we sprayed all the hardware oil rubbed bronze.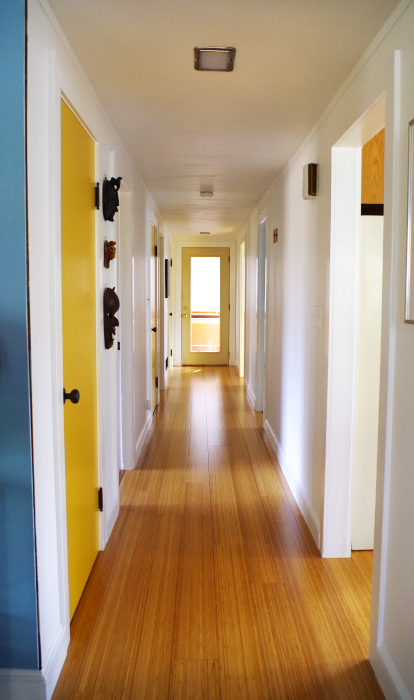 We're still working on this, and plan to hang a lot of art, install new lighting, and paint the door on the end.  We also want to add a bright runner rug, but for now we have too much fun sliding up and down in our socks.
The front "bedroom" I have claimed as my own.  (The deal was that Brad got to keep his stuff in the master bedroom and have an office in the basement, if I got my very own dressing room on the main floor.)  It used to be bright green.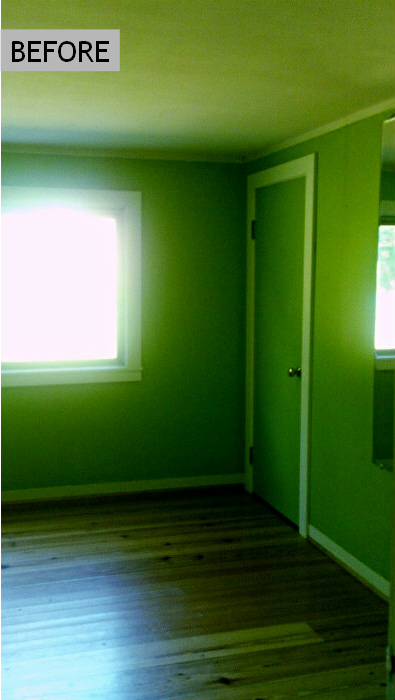 We painted it a deep teal, which is really fun against the yellow doors.  I plan on toning it down a bit with white curtains, more art, and some lighter furniture in the future.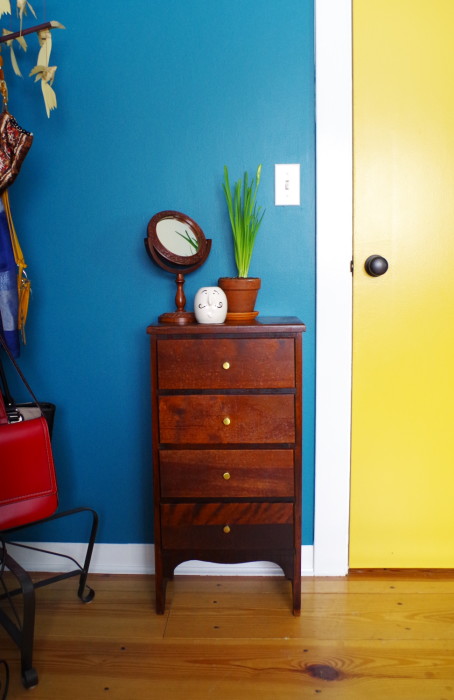 We're not afraid of color but in most of the house we're choosing colors that are pretty easy to live with, like blues and grays with pops of pattern and brighter colors.  But I wanted to have one room where I could bring in something a bit crazier.  I mean, it's just paint!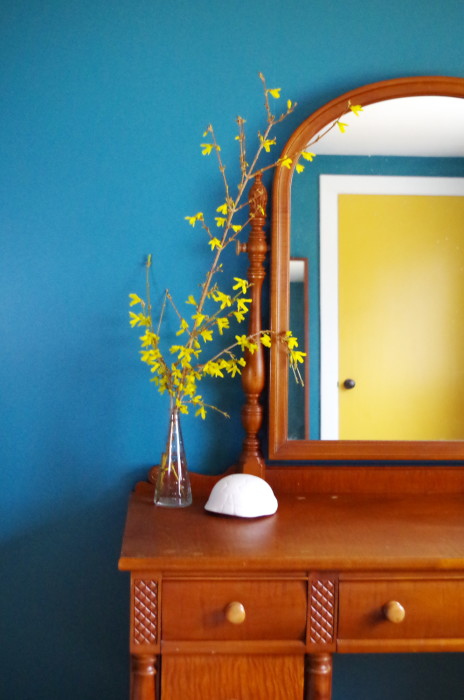 I love coat racks, but it can get messy if one is kept by the door.  Instead, I use my old IKEA coat rack to hold scarves, hats, and purses.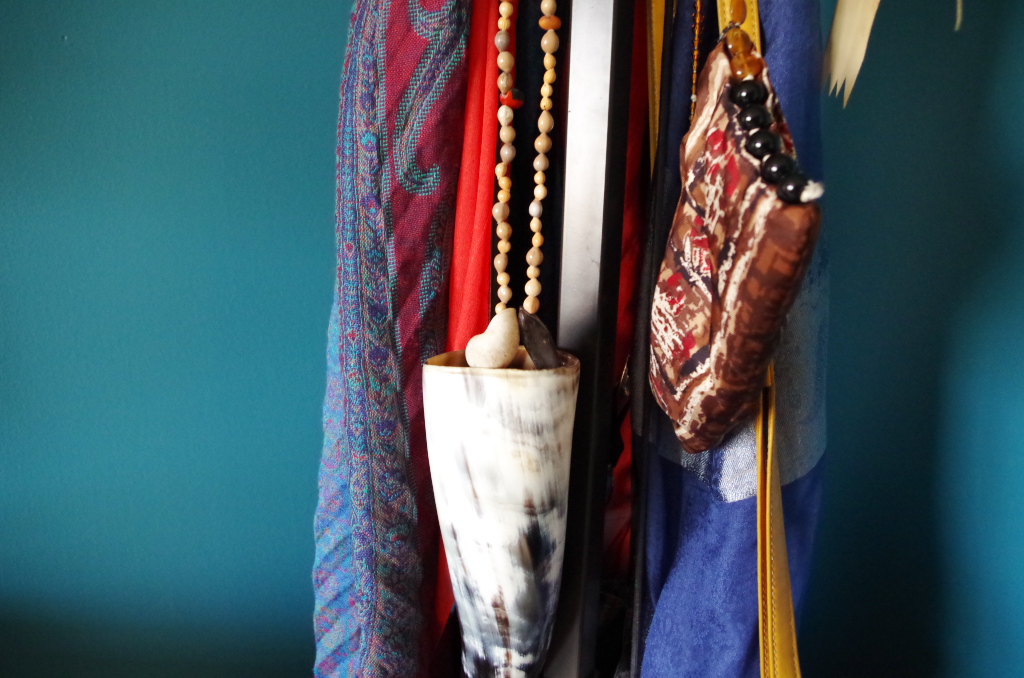 Next down the hallway is the bathroom, which we haven't done much work on yet.  It started out in pretty good shape (or at least in non-offensive neutral colors, which in our house we call "good shape").
We replaced the window during the renovation, dealt with a perplexing issue of symmetry, added ventilation and lighting, painted, and added a new shower curtain which I designed myself, but the rest remains to be done!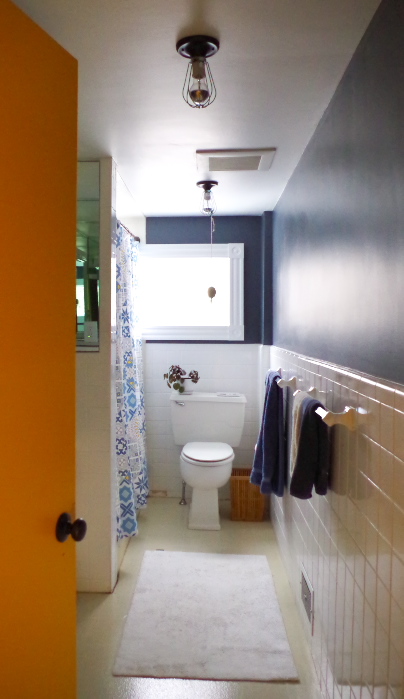 The pretty white tiles you see are actually salmon pink ones covered in white enamel, which is noticeably peeling off in many places.  I can't wait to overhaul this with new tile, fittings, floor, and everything.  It is the only bathroom on the main floor so we want it to be really nice and functional.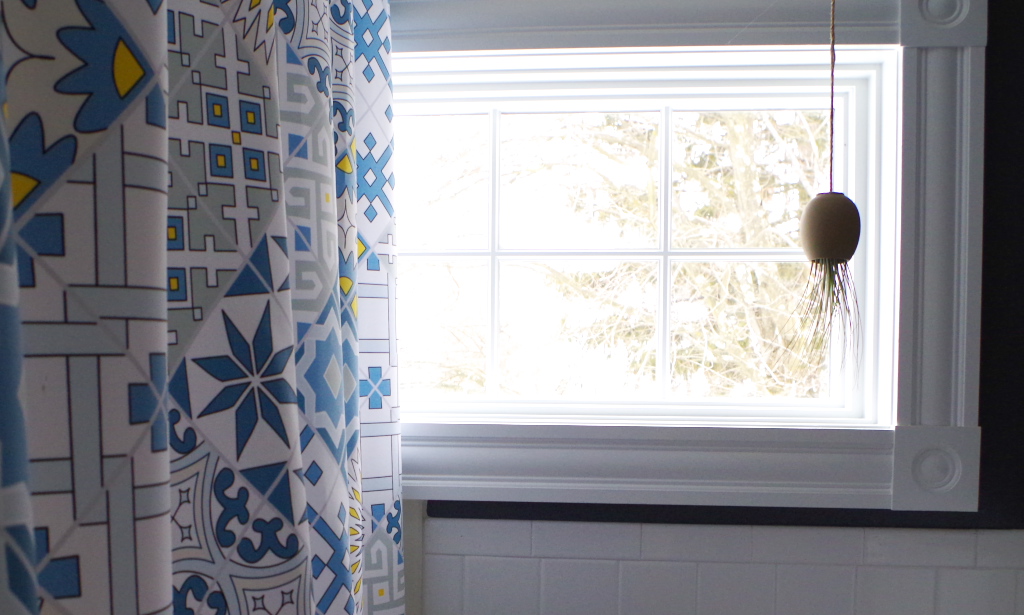 Next to the bathroom is our "master bedroom," which is really just the same size as all the other bedrooms, but is the one we picked to put our bed in.  It started with the nicest floors in the house, a light oak in small boards.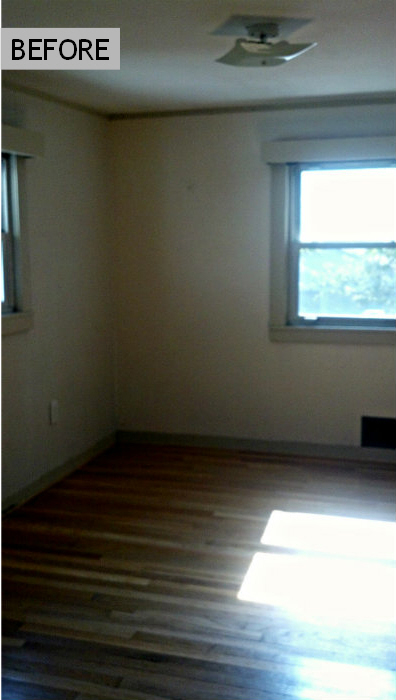 We added a bay window here during the renovation, so it is just flooded with light.   We'll eventually invest in a proper bedframe, new bedside tables, lighting, and figure out what art to hang where.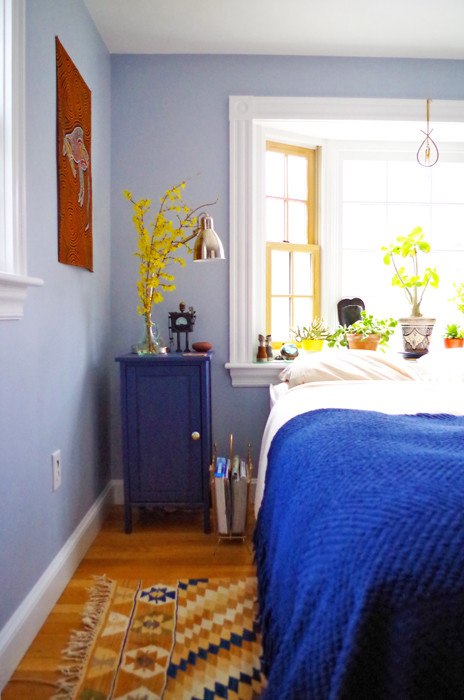 For now, the yellow doors and Brad's awesome antique dresser add a lot of interest.  I also spiffed up a thrifted magazine rack to keep me organized, and I love the airy, gold touch it adds to the space.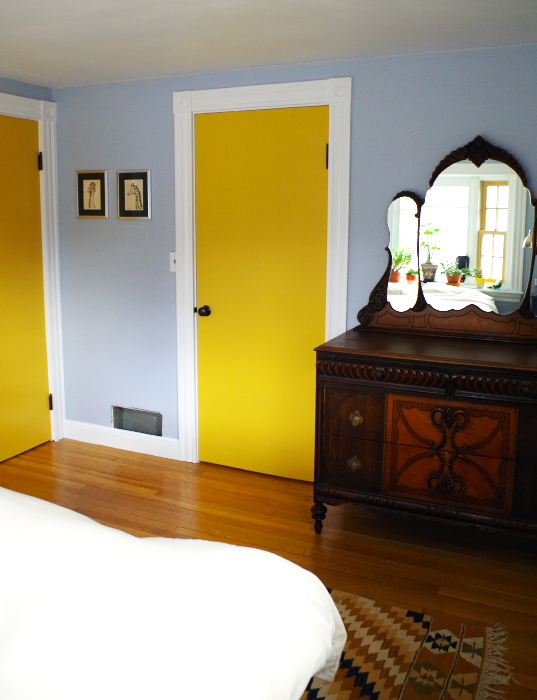 The final bedroom is a library/guest room, which is still unfinished but has come a long way.  It started out with a strangely smelly brown carpet, which we've since removed in favor of new bamboo floors.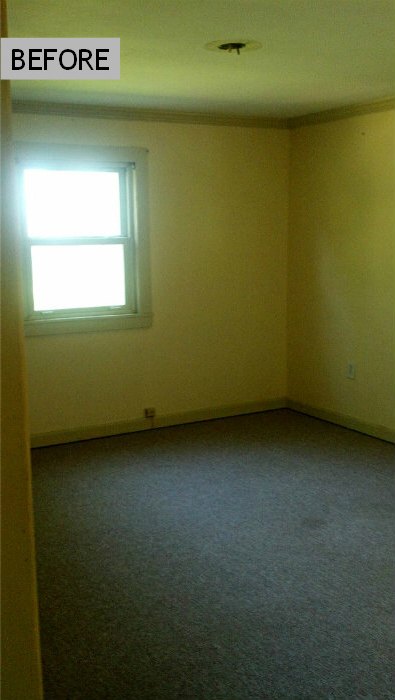 We also spent a TON of time on detail work and painting to turn it into a respectable space.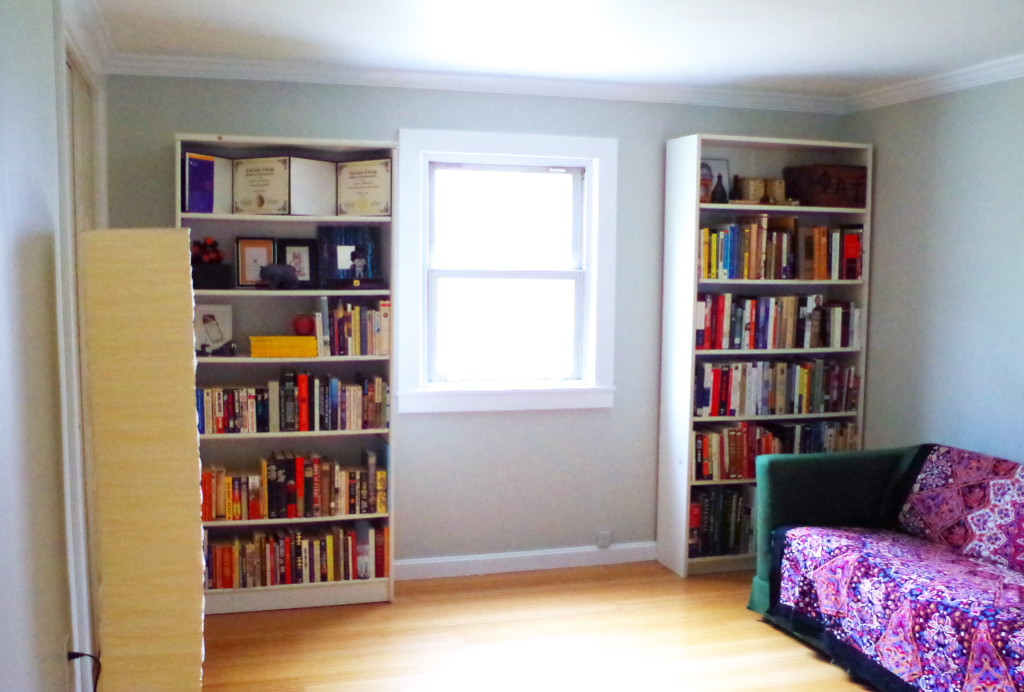 It is currently home to a lot of our "leftover" furniture, including an old green sofa with pullout bed which we use for guests.  We are wavering between replacing this with a real bed and turning this into a guest room vs. continuing on this path of library/sitting room.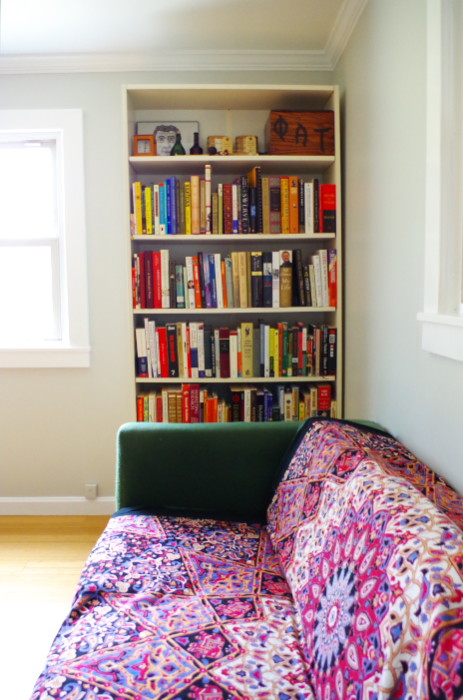 Big decisions, people.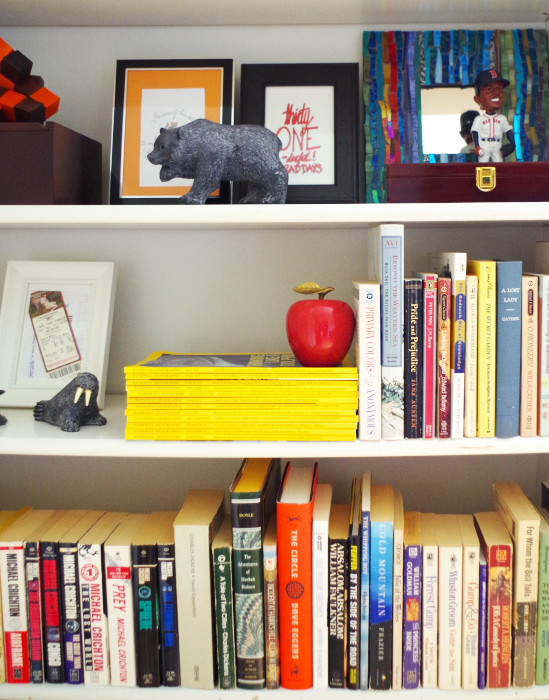 If you only want to look at relatively pretty things, STOP READING NOW.  The rest of the spaces are virtually un-touched from their initial state.
I'll give you one more chance.
At the end of the hallway is a three-season porch, heated by a wood-burning stove.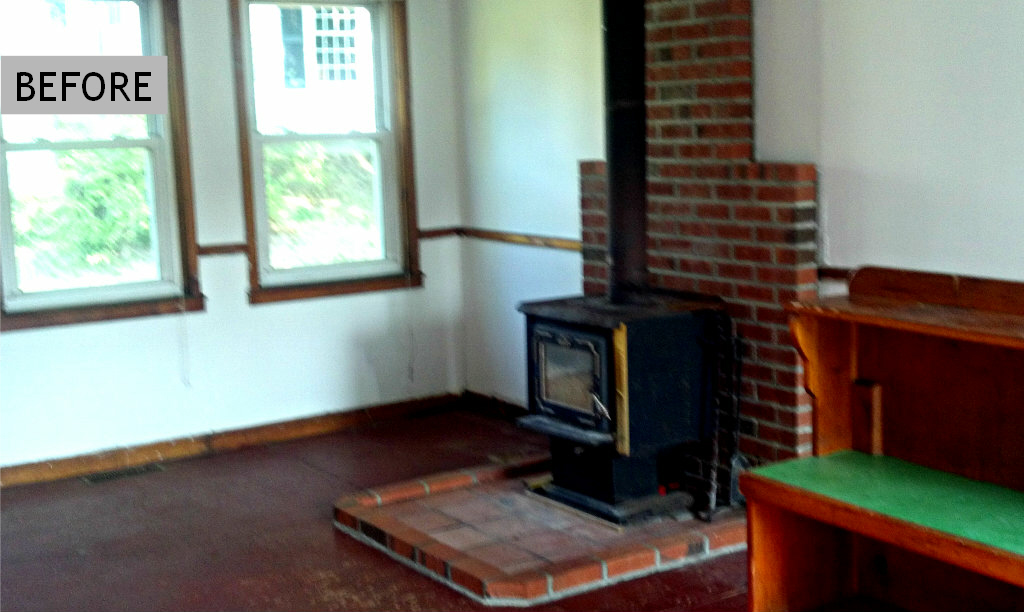 It is in rough shape currently, but has a ton of potential.  The floor is just underfloor painted rust, and everything is pretty beat-up.  Also, there are no windows facing toward the backyard, which is the best view in the house.  But I have visions of cool painted floors, a cozy built-in couch, and maybe even a slate mudroom with French doors leading to a luxurious back deck.  Um, eventually.
Finally, the basement is dark, but also has a lot of potential.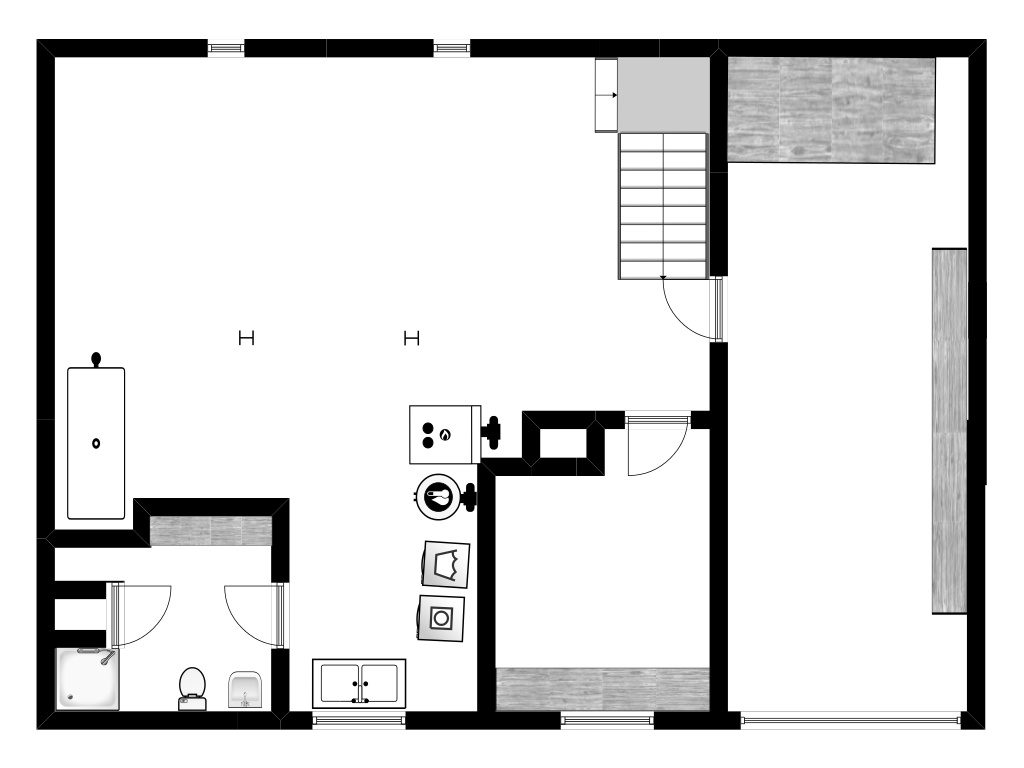 The ceilings are relatively high for a basement and there are a few windows, so we could definitely finish it in the future.

It already has a small office framed out.  It also has the washer/dryer, a utility sink, and a three-piece bathroom which is ugly and dark, but at least already has all the necessary plumbing in place.  That bathroom is also super useful when we are doing work on the one upstairs, obviously!
The garage is narrow and long, but great for storage.
Having a place to put your car is really awesome in New England, where it would otherwise get covered in ice and snow and need to be shoveled out.  ALL.  THE.  TIME.
I'm looking forward to fixing up this space by re-coating the cement floor, painting, putting on a new door, and adding some good storage.
We also have a great yard – one of the real selling points of this house.
It's a ton of space and most of it is still in its "potential" stage, but we have done some work.  We planted a bunch of bushes and trees along the front to block the busy road, and have planted a few new flowers and bushes around the property.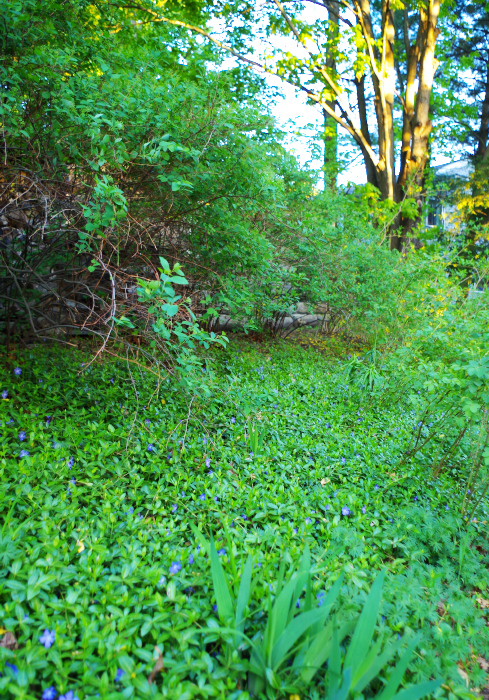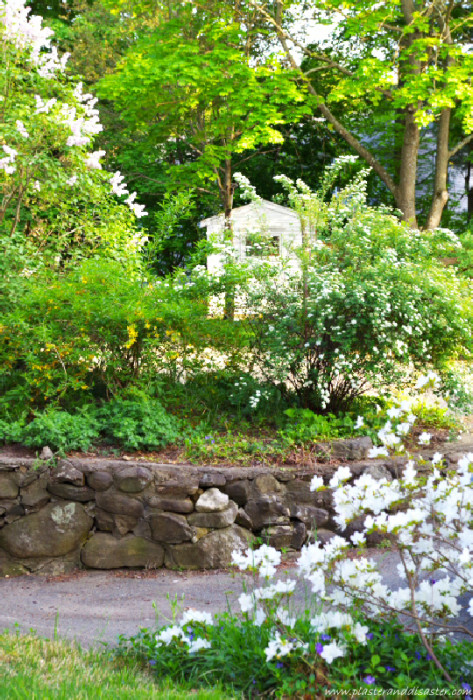 For the whole story, you should check out my yard tour.
There you have it!  We're only about two years in from the original state, so there are still a lot of projects to come.  I get so excited about the potential it is overwhelming – so I'm sure Brad is thrilled that I now have an outlet to talk about it all, and now perhaps might leave him in peace.  But we've also got a lot of progress under our belt, so I'll be adding links to posts about those things as we go.