As the Mamas and the Papas once famously sang:
All the leaves are brown and the sky is gray.
I've been for a walk on a winter's day.
I'd be safe and warm if I was in L.A.;
[Renovation] dreamin' on such a winter's day.
Frankly I'm wishing for a little brown and gray, right now we've got white, white, and more white. Many feet of white.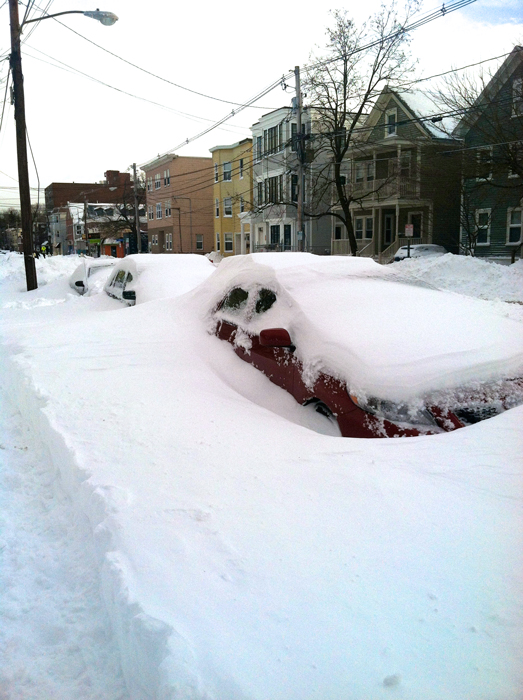 So what's a gal to do but sit snuggled up on the couch and dream of warm weather and DIY projects to come (besides my full-time day job)? Now that Naomi has started to share the transformative renovation that she and Brad undertook in their house, I feel compelled to tell you about the renovation that Sam and I are dreaming of.
Realistically we're probably a few years out from this work because we need to save up for it, but we did buy the house knowing that we wanted to do some significant work to the second floor. Specifically, we have to add a bathroom. One bathroom is fine for just the two of us, though it's already tight whenever we host multiple people overnight or have plumbing issues (which has been far too often…more about that to come in a few weeks…). But if our family ever grows beyond two humans and two cats, we're going to need another bathroom. Plus this is something that will add to resale value, though when the time comes to finalize a specific plan and budget we'll be sure to get our real estate agent's perspective about how much we might expect to recoup when we sell (we don't have any plans to do sell anytime soon, but it's always good to keep in mind since you just never know…but after the stress of buying this place, Sam and I are not eager to do that again in the near future).
The existing bathroom is on the first floor, so adding a new one to the second floor is really the only option since it doesn't make sense to have another one on the first and one in the basement really wouldn't add the functionality we want. But there just isn't space on the existing second floor, which is currently occupied by two bedrooms and a storage closet: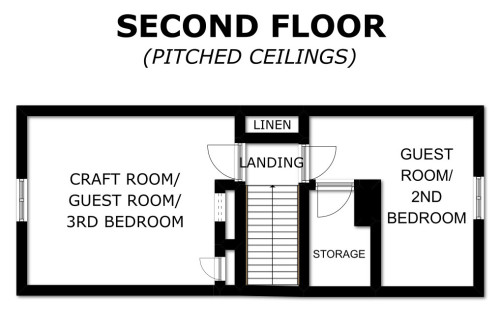 The house is a cape, with the second story under a sloped roof — so the space is significantly tighter than the floor plan really shows. It wouldn't be possible to carve off a portion of either of these rooms for a bathroom, since along the edges the ceilings are pretty low: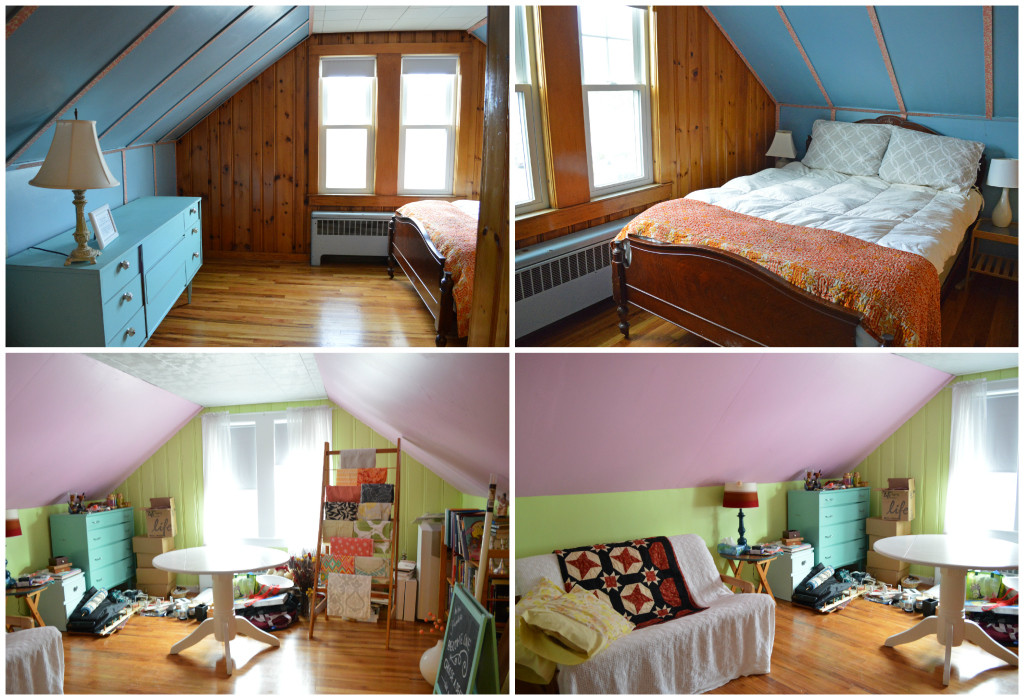 So what do we do? Dormer to the rescue!
What's a dormer? I had no idea before our real estate agent mentioned the idea to me when we were touring the house last summer. But essentially a dormer is an addition to the roofline that adds usable floor space to the top level of home with a sloping roof. There are lots of different types and variations:
Once you know what they're called (and start planning to add one to your home), you start realizing they're on a lot of houses. And dormers are one of the most cost effective ways to add square footage to a home, since they use existing floor area that is rendered unusable by the slope of the roof but already has a foundation, etc, unlike a completely new addition to a home which requires much more new structural support.
I put together a little model in Google Sketchup to help demonstrate. Here's a representation of how our second floor looks now, minus some of the interior walls, staircase, etc.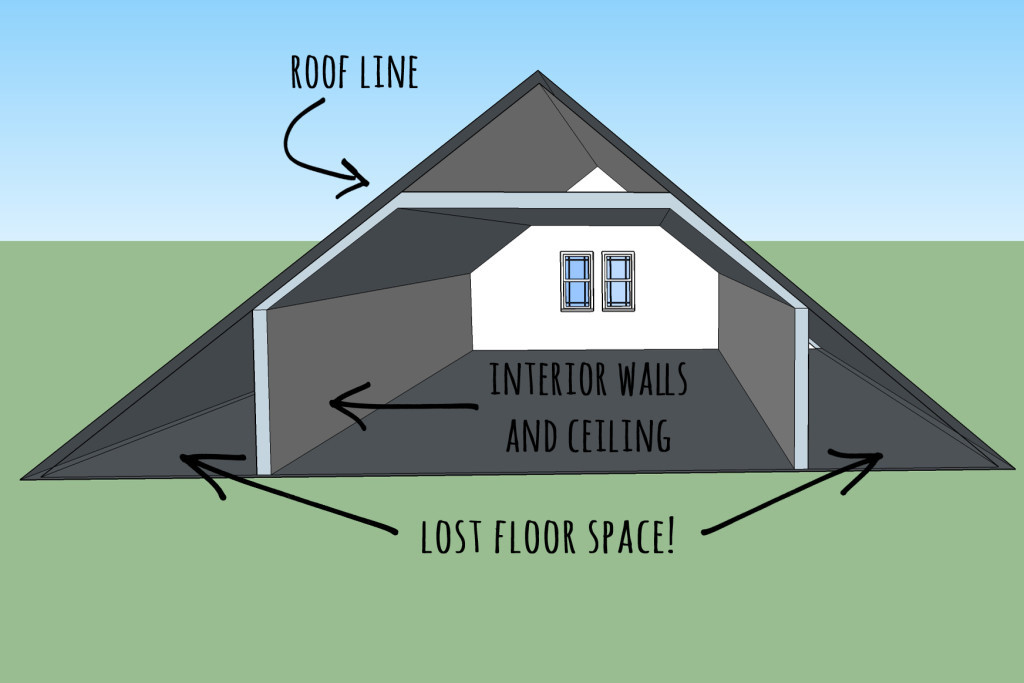 You can see that the usable interior space is much smaller than the actual floor area available, since there are interior walls blocking off significant space under the edges of the sloped roof. And intuitively that also makes sense — our second floor is the same size as our first floor, and yet the amount of space we see and can use is much much smaller because the rest is lost under the lowest parts of the roof and blocked off behind the interior walls.
But a dormer, even a relatively small one, could create a totally new room that protrudes from the existing roof line. Here it is modeled in Google Sketchup: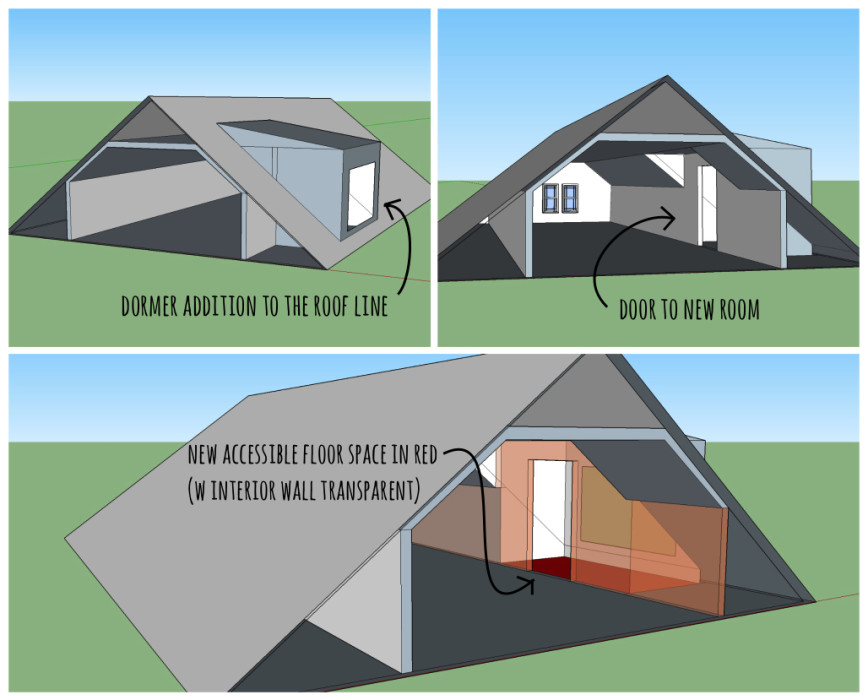 Technically we could dormer out the whole length of one side of the roof to add a huge amount of space, like has been done on this house:
Or we could even dormer out the length of both sides, although that would be a little tricky because of the sun room addition that impinges on the roof line a bit on one side of the house (as seen above). But that's a very expensive proposition, most likely in the $50-100K range since it involves replacing pretty much the whole roof and redoing all of the interior walls, floors, ceilings, electrical, and I'm sure lots of other things I don't even know about. We don't expect to have $100K in loose change lying around anytime soon.
More realistically, I'm thinking that we could add an 8-10′ long dormer that would accommodate a bathroom, adding it to the existing craft room and turning it into a lovely master suite (for the purposes of this vision, you also have to imagine a new paint job…no one needs a watermelon explosion master suite). We'd need some new electrical work because the wiring on the second floor is older and that would be a good time to upgrade, plus probably some heating/duct work because our radiators up there don't seem to work and our current central AC system is on the first floor only (not that we need central AC, but it wouldn't make as appealing a master suite if it was only one of two rooms in the whole house without it).
Here's a mockup of the possible new floor plan: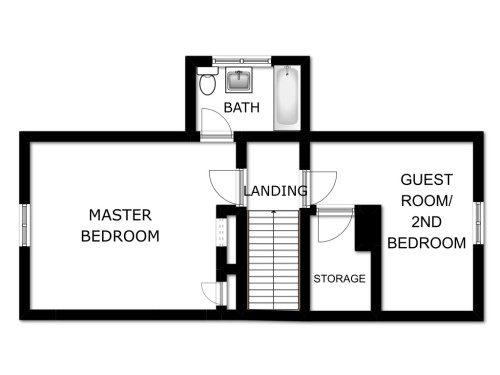 And a photoshopped approximation on our house: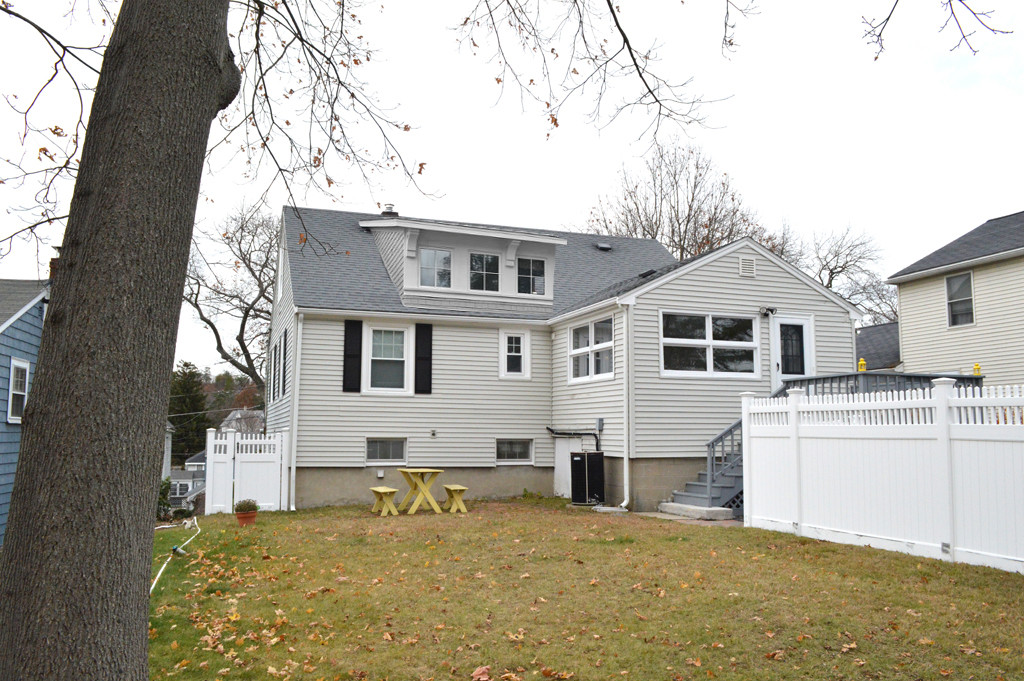 You might wonder why the dormer is in the middle of the roofline, rather than squarely on one side off of the master bedroom. Well, it seems we have some major layout constraints. It will be much less expensive to have the new bathroom above the existing bathroom or kitchen, which are both on the back side of the house. So that's constraint #1. Constraint #2 is that the sunroom roof peaks on the right side of the back roof, which happens to be the half of the roof that belongs to the sunroom. Why not make the guest room into the master suite instead? Constraint #3 is that the guest room is very small (not big enough for a queen size bed) because of the storage closet protruding into it, and we could tear down the walls to the storage closet but there would still be a giant pillar through the middle of the room because that's where our furnace chimney vents up from the basement. So…not a lot of good options. By placing it in the center, maybe we'd be able to get it left of the dormer but still with a door from the current craft room.

Anyway, that's all a lot of stressful detail, let's look at some soothing inspiration images, shall we?
Whatever we do, painting the walls a light color features heavily in the plan. I love how much the light walls open up this space, despite the sloped roof:
Though we might want to retain a little bit of color — I can't be expected to give up my turquoise/blue obsession entirely, can I?
Or maybe I will concentrate my turquoise lust in the bathroom:
If the dormered bathroom has lots of windows, how about this soaking tub? (Shower is separate so you aren't standing fully exposed in front of those windows…one of our neighbors is a pastor, that might be too much for him and his family.)
In some ways it would be great to find a way to add more windows to the bedroom as well, like with skylights.
But on the other hand, for practical purposes we actually love a dark bedroom (C.f. "A Sophisticated Cave"). So we'd want to be careful not to install a skylight that would end up spilling sunshine directly on our faces while we try to sleep. (We don't have children, so sleeping is an activity we get to do a lot of and greatly enjoy).
Here's a cozier look:
And of course, we'll want to turn the second bedroom up there into a walk in closet:
But…even for dreaming that's crazy. Besides, I spend all my money on home improvement and crafting, I don't own enough clothing to fill a closet of that size.
I'm actually thinking we'll get a contractor out for a ballpark estimate sometime in the coming months just to give us an opinion on what might be feasible and the general ballpark that we should be saving toward. Thank goodness Naomi and Brad have an awesome contractor to recommend. You know I'll keep you posted as our dream inches closer to reality!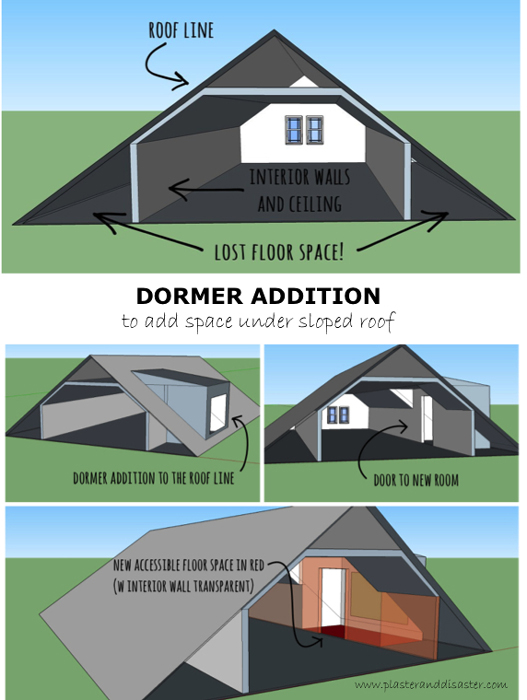 (Sharing at The Foley Fam)