Happy 2017! We are glad to be back after a few weeks of light posting. We hope everyone had a peaceful holiday season, and is raring to go in 2017 (this is a year when we will all need to be more active and engaged than ever!).
Today I'm here with the post that I thought might never come. A mere 363 days ago, I shared my goals for 2016: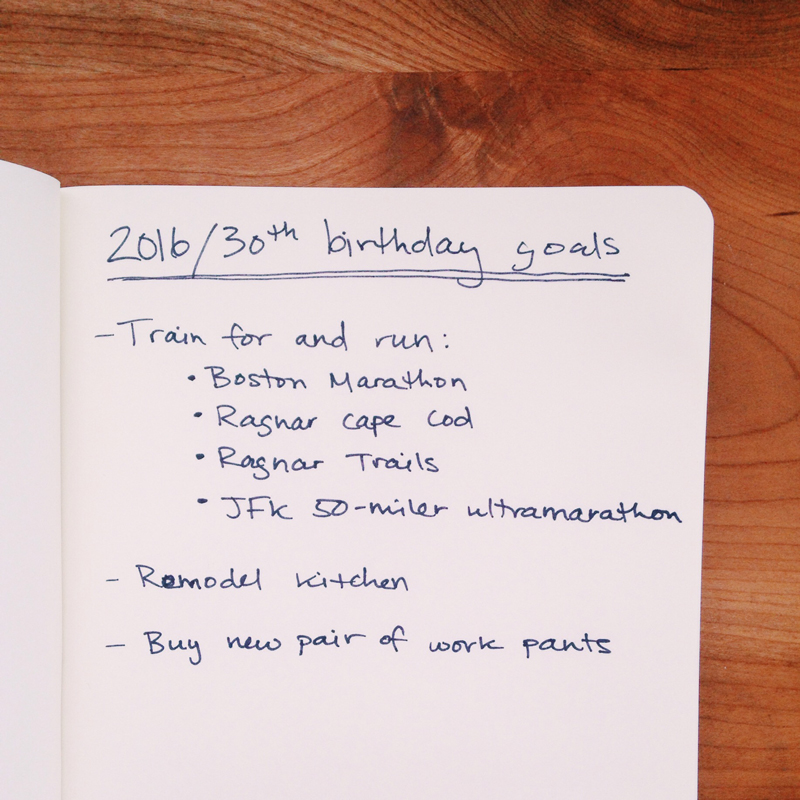 Sadly the year did not go as planned and a leg injury (which I am still nursing 9 months later…) derailed my Boston Marathon and 50-mile ultramarathon plans. Womp womp. Apparently once you turn 30, your body breaks immediately. But all was not lost, I did get my act together enough to still run Ragnar Cape Cod and Ragnar Trails New England: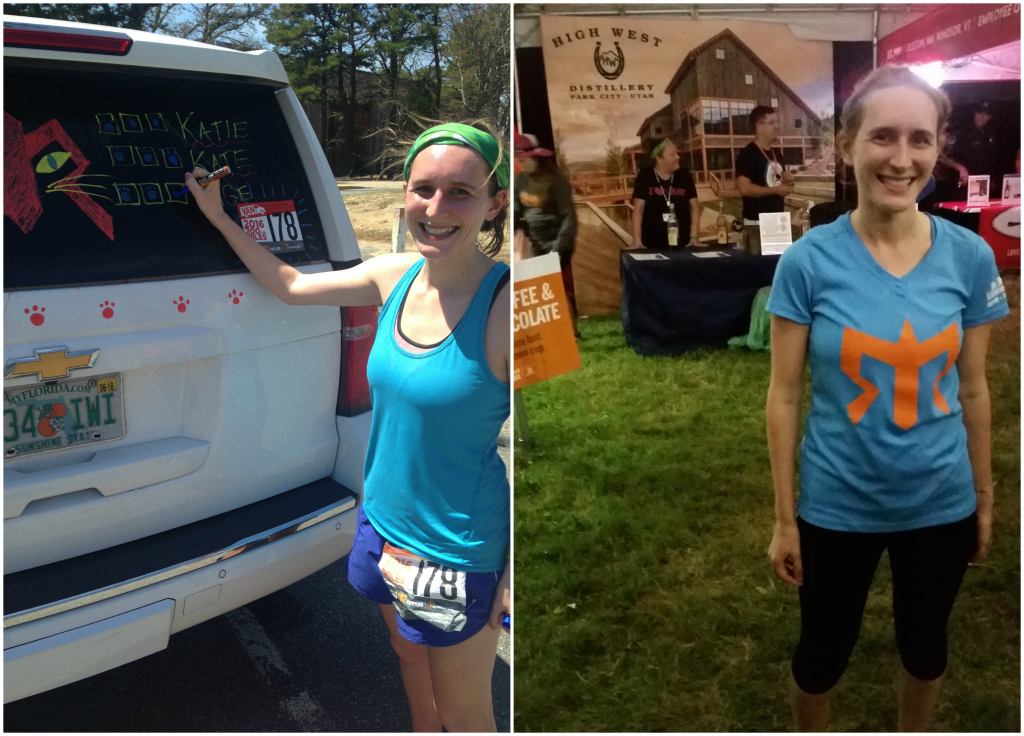 And I threw in an unplanned half marathon with an unexpected Personal Record: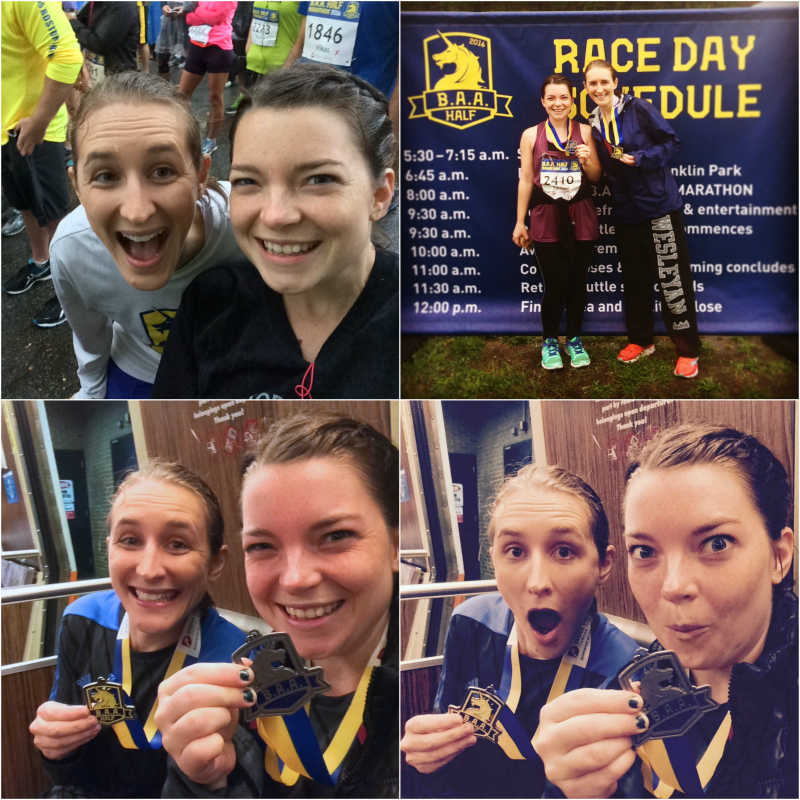 As you likely remember, I also succeeded in buying a new pair of work pants: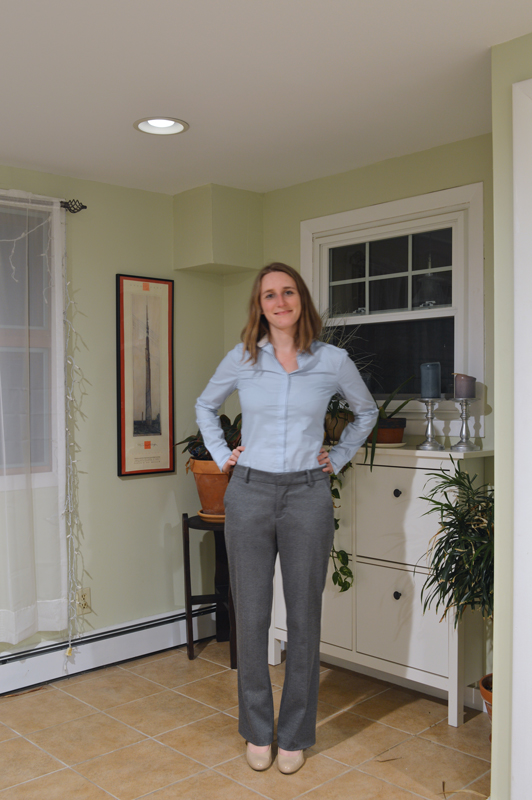 But more than anything else, I'm thrilled to be calling it (mostly) a wrap on my "remodel kitchen" goal. Woohoo! I say "mostly" because there are still a few outstanding items that I will get to eventually (I'll share more on those as the post goes on), but I'm considering this 99% done — and that's good enough for me to celebrate right now! So today is a tour of things, including a bunch of projects I worked on over the holidays that you haven't seen yet. Hope you enjoy!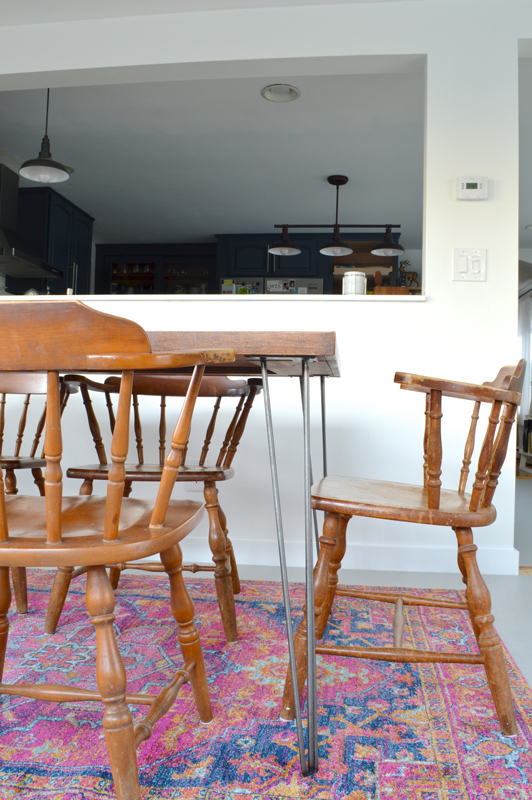 Let's start in the (new) dining room. Reminder, it used to look like this, as a sunroom closed off from the rest of the house: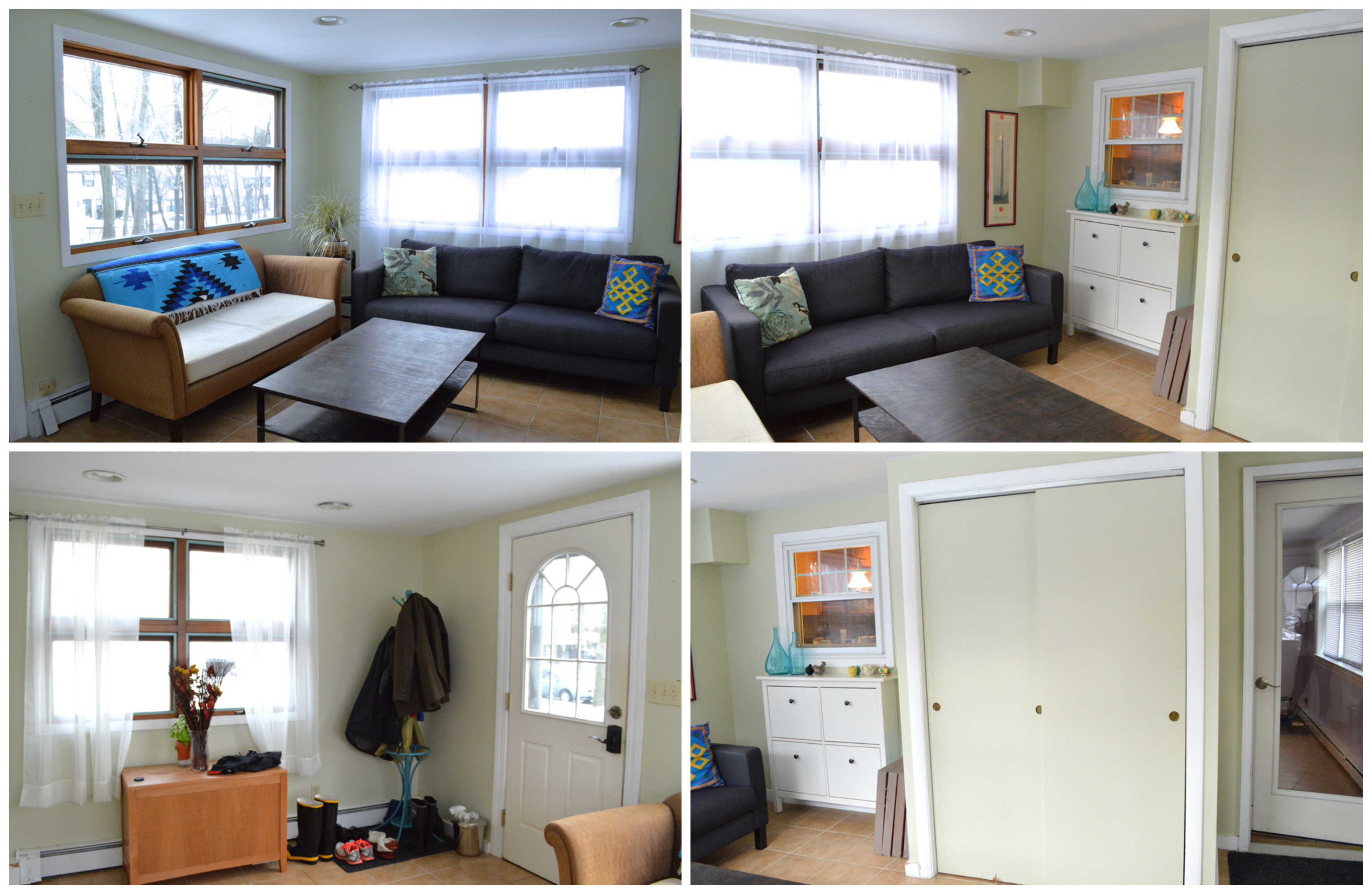 Now it looks like this: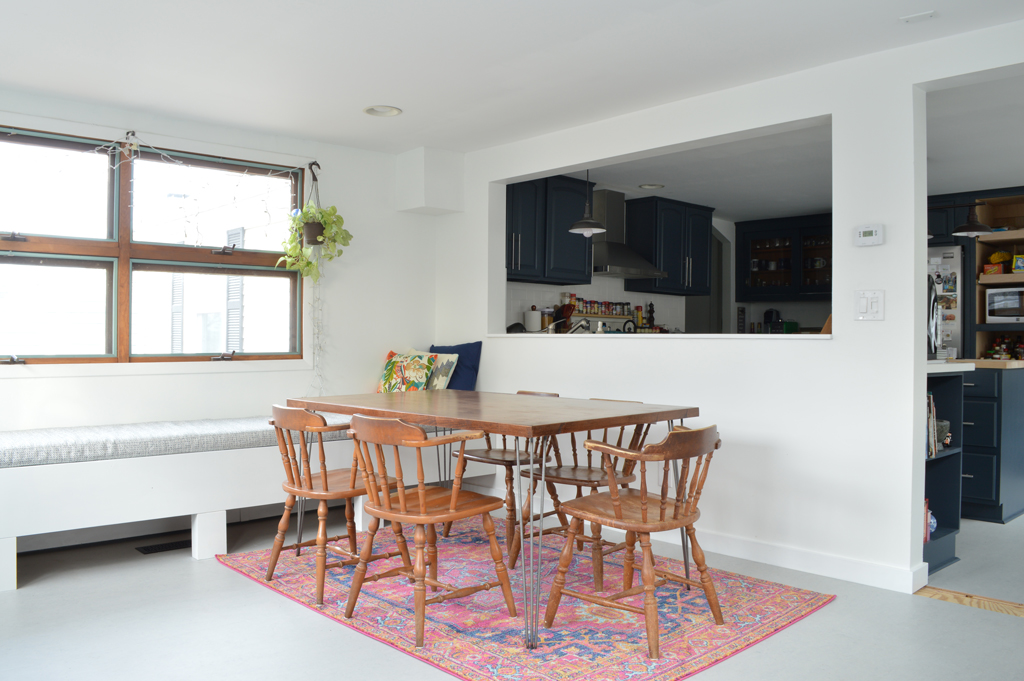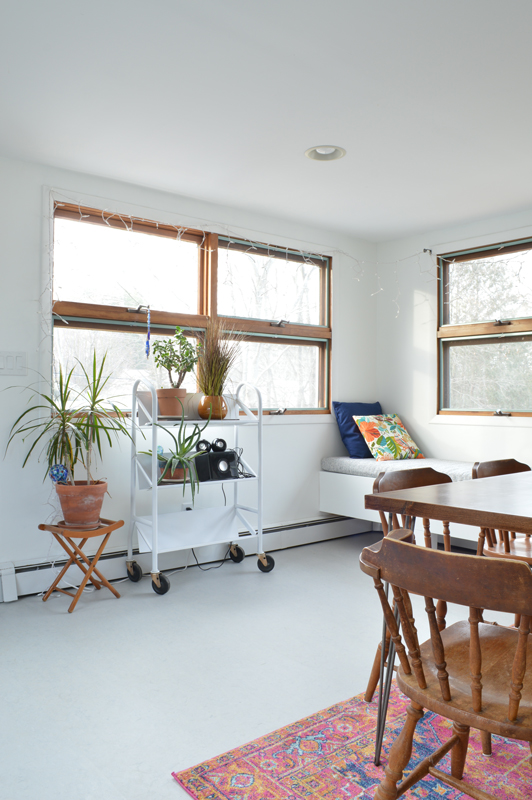 You know the big projects we've done, including:
Over the last week, I also did the following:
1) I bought two really ugly stacking cabinets off of craigslist for $20: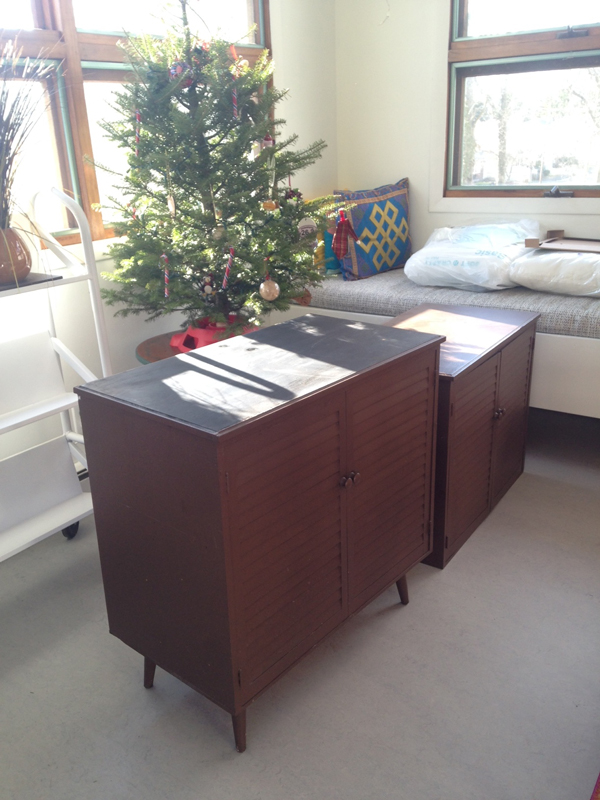 And turned them into this credenza/shoe storage to round out the functionality of the entryway:
I'll share more about this project in a future post!
2) I framed and hung this print that my brother's girlfriend, Katie, commissioned off of Etsy for us for Solstice: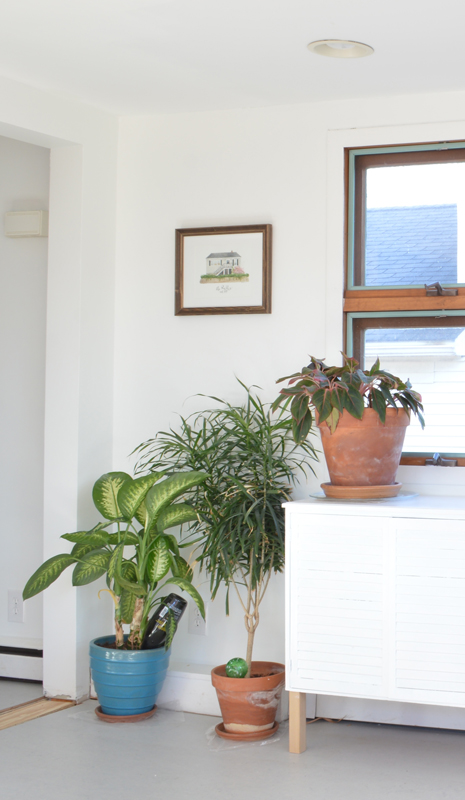 Isn't it so sweet? I love that both cats are visible in the front window.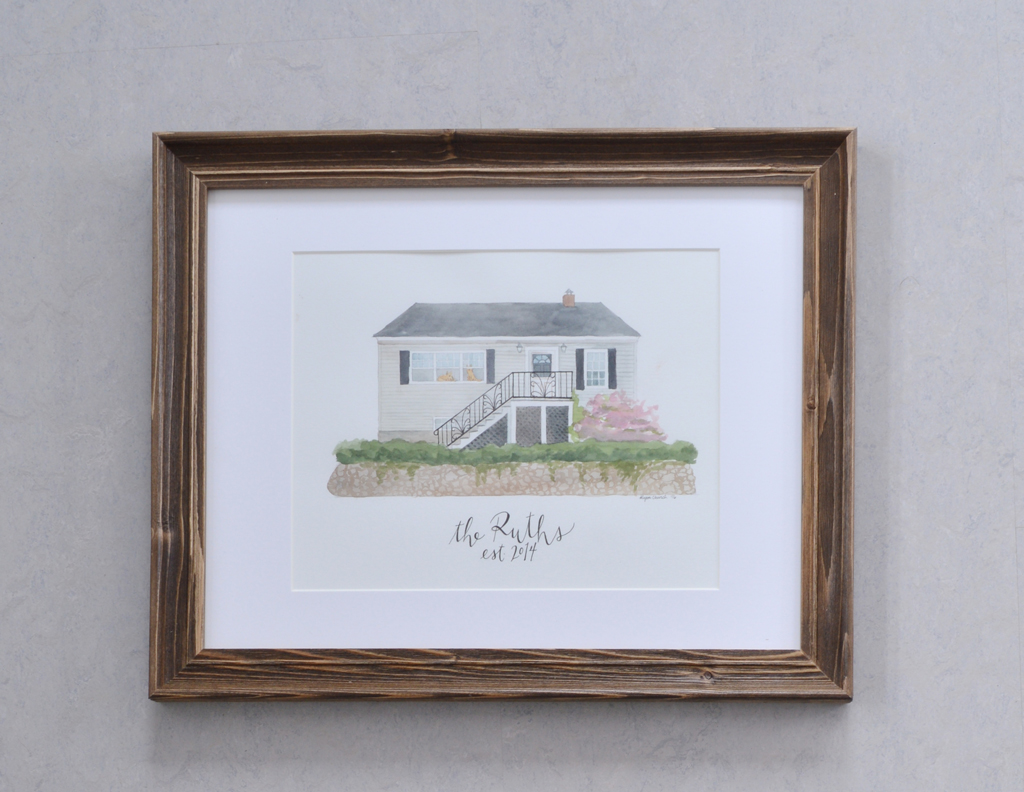 3) I built a dining room table using 28″ hairpin legs I bought for just $13.50 each at Hairpinlegs.com (an incredible steal, go buy your own now!).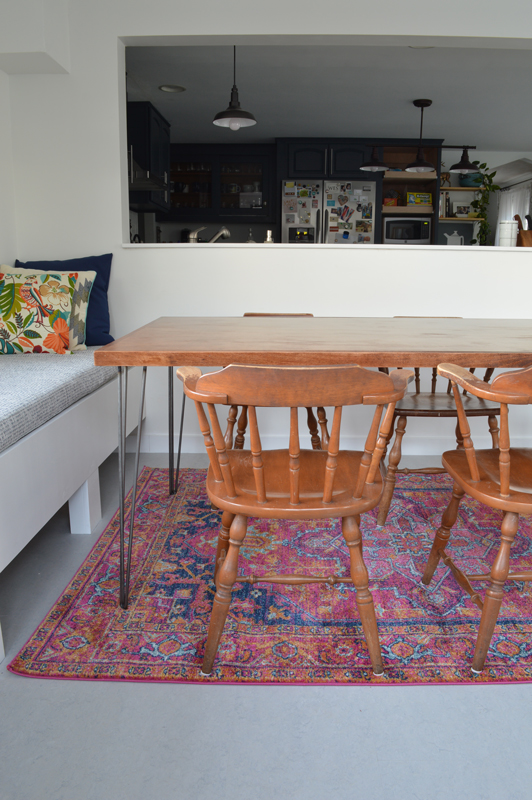 The tabletop is plywood, and I'll do a full tutorial soon.
4) I bought five wooden captains chairs off craigslist for $50 to go with the new table. I may paint them down the road, but I'm living with them for a bit to see what I think will look best. They probably aren't my forever chairs, but I wanted something wood and inexpensive for now and if I come across something else I love down the road at a place like Brimfield I can splurge.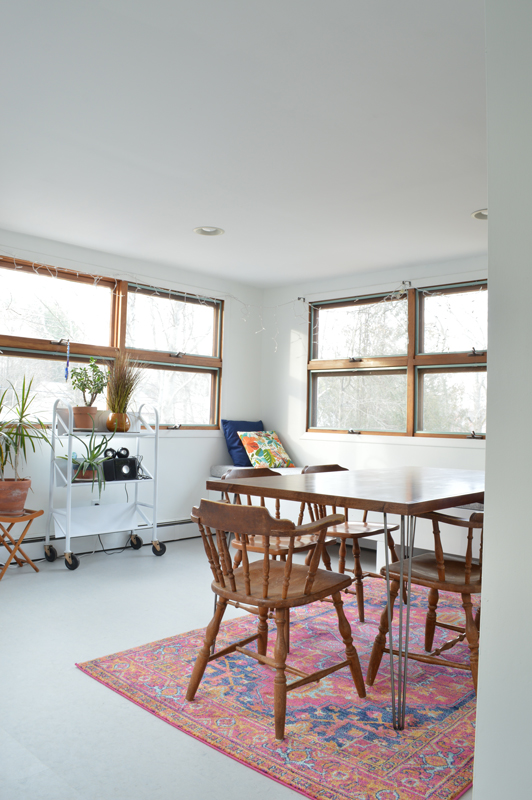 I was sure to put felt feet on them to avoid scratching the floor.
5) Speaking of the floor, you've by now noticed that I got a new rug. It's a 5×7 that I got from Rugs USA for just $94 (originally $105, minus 10% for giving them my email address as a new customer).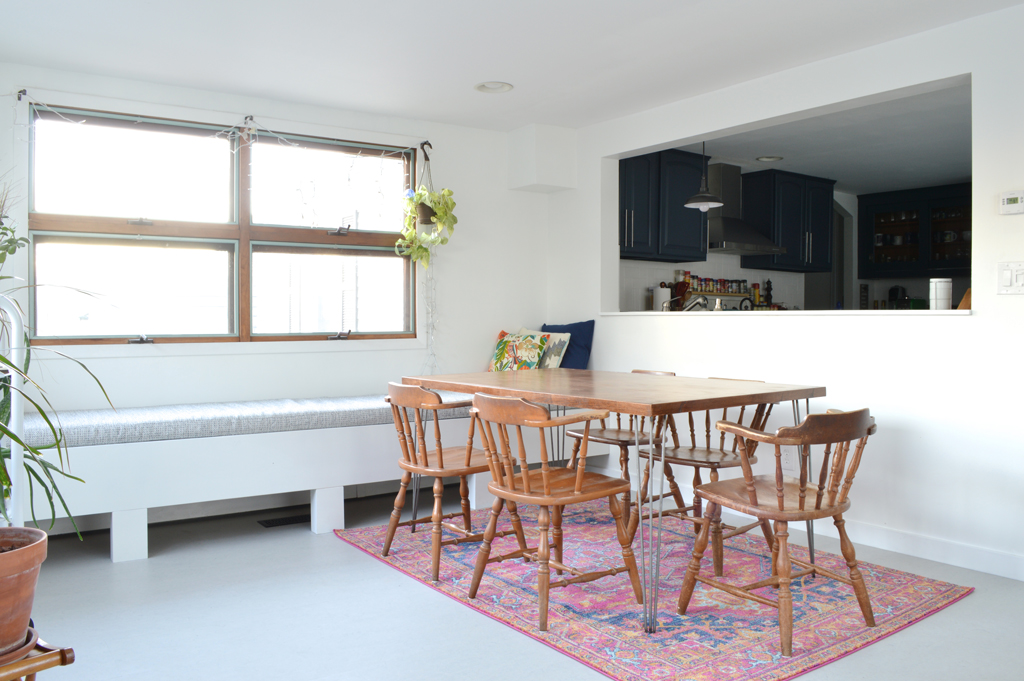 I love the color. I know it's a little small (you should really be able to pull out dining room chairs and have them still be on the rug), but I didn't want to go up to an 8×10 as that would take up most of the floor and basically go right up to the back door (our main entrance). This is a multi-purpose room (dining room, mudroom, and lounging), and I want the dining area to feel like a defined space within that. Since this isn't a dedicated dining room, keeping the chairs pushed in most of the time and contained within the border of the rug is what will work best for us. In person though it doesn't feel quite as cramped as the photos make it look.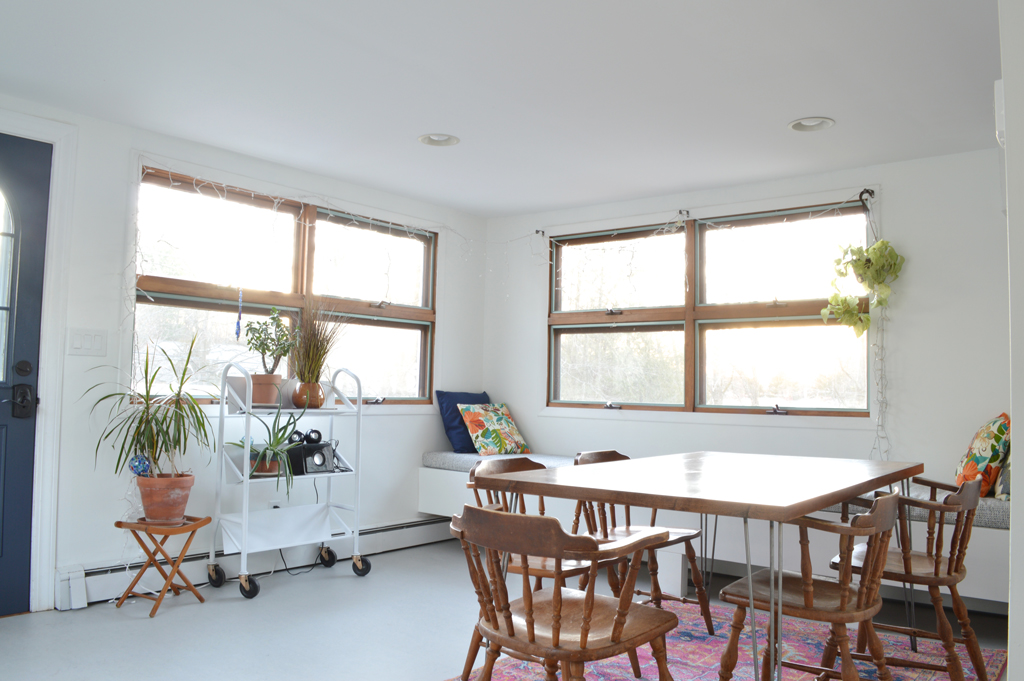 6) While I was at it adding color to the room with the new rug, I also sewed some new throw pillows using patterned fabric I bought from Fabric.com back when I bought the fabric for the bench cushion, as well as some navy fabric I got from Jo-Ann's.
7) I did a lot of touch up work including caulking and spackling, which isn't awe inspiring in photos but in person definitely helps it feel more finished.
Murphy approves of everything.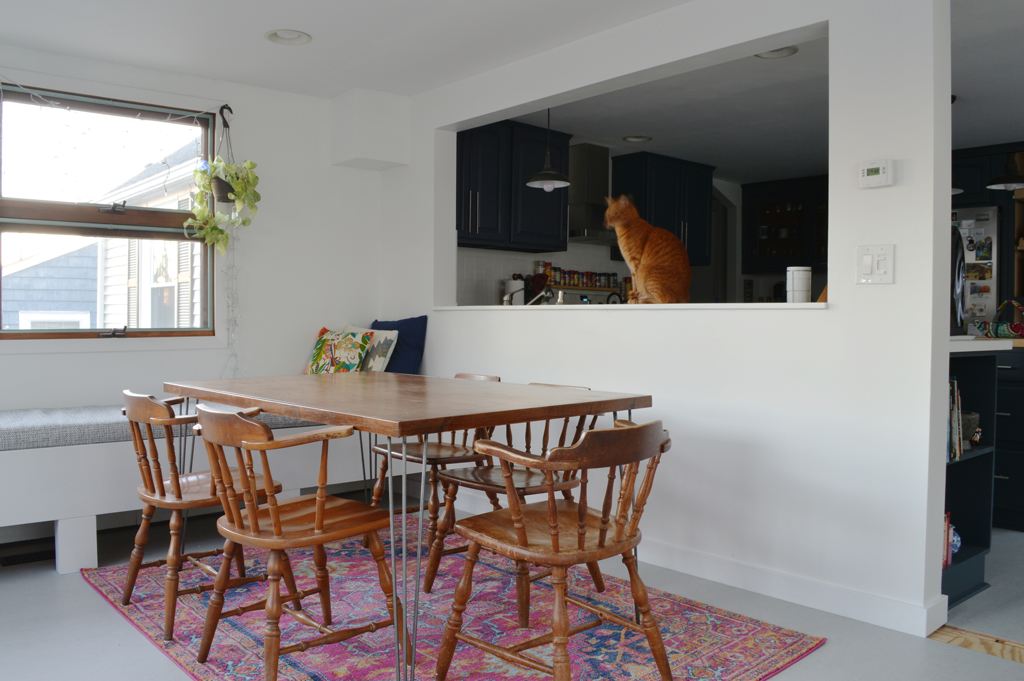 And yes, in the lower right corner you can see the threshold I still need to build…part of that 1% I still need to wrap up.
Let's move into the kitchen, which used to look like this: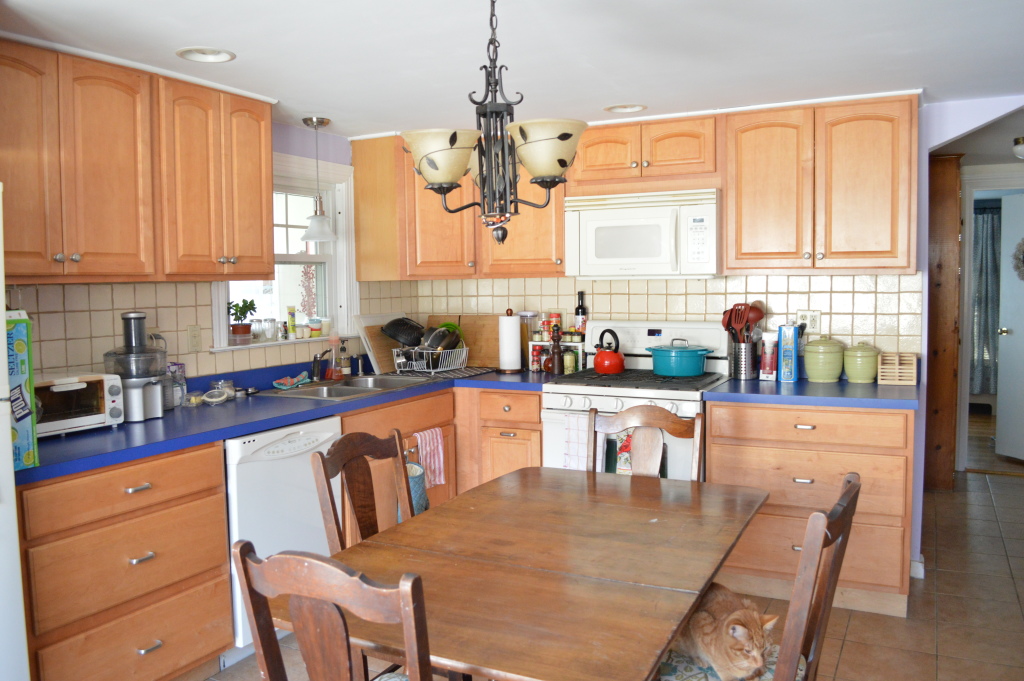 Here it is now: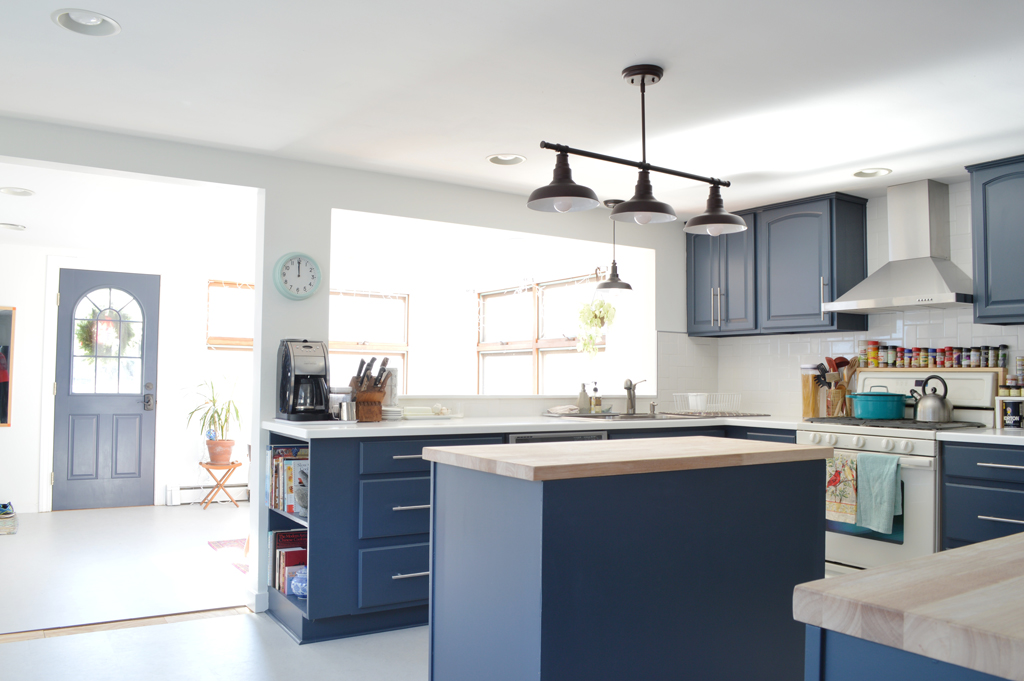 Besides knocking down the wall and laying the same Marmoleum flooring as we have in the dining room, the projects I've blogged about so far include:
Whew! I'm fatigued just recounting all that. In the last week I have also:
1) I finished swapping out the electrical outlets for white ones and installed new switch plates to match, including finally doing the GFCI outlets on the backsplash wall (which are a little more complicated than regular outlets):
2) I built a simple spice shelf around the stove to hold some of our spices and free up counter space: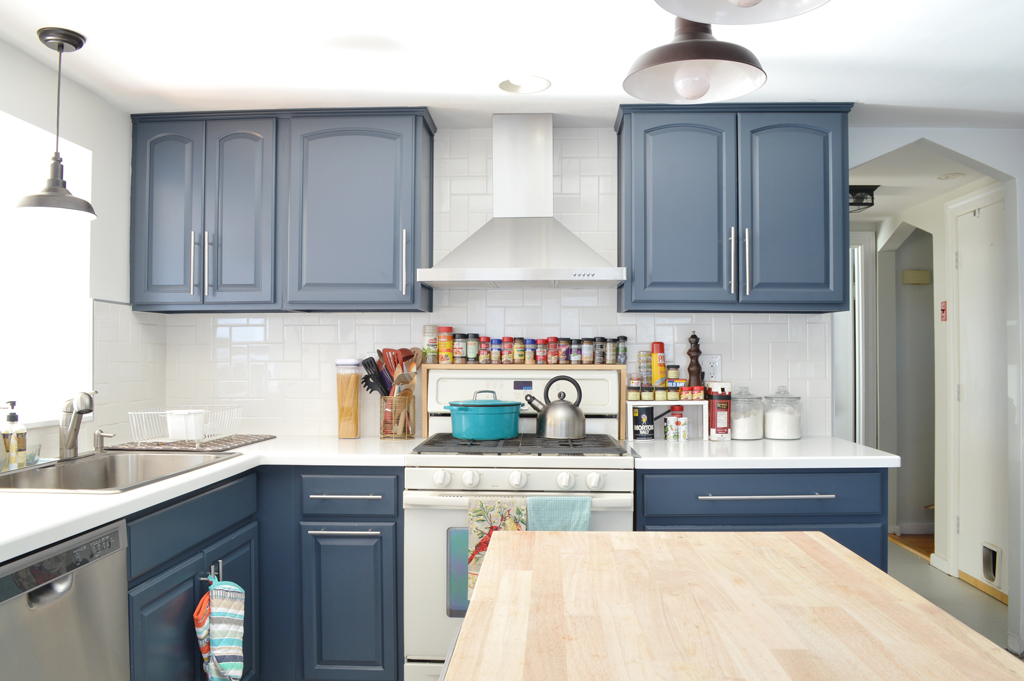 3) The thing I am proudest of is that I built these sliding shelves for the pantry:
I'll do a full tutorial on these babies soon. It was so exciting to get them built because they allowed us to move all the kitchen stuff back into the kitchen that had been living in the basement and guest room since we tore the buffet out last January (!!). I did a full reorganization of the kitchen, going through every drawer and cabinet and moving things to more logical locations — I relocated almost everything. So for instance, this sad underutilized cabinet: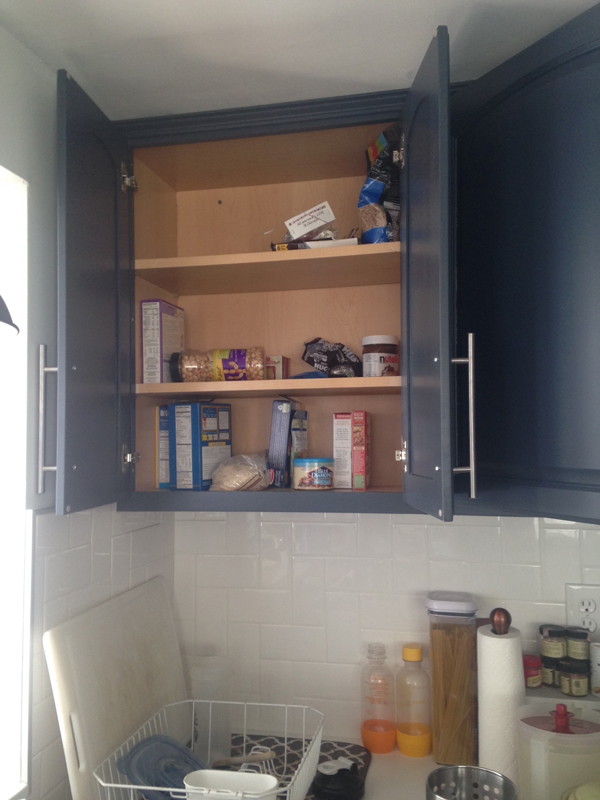 Is now put to much better use (it's a challenge to reach, so it's good for big things that we don't use every day):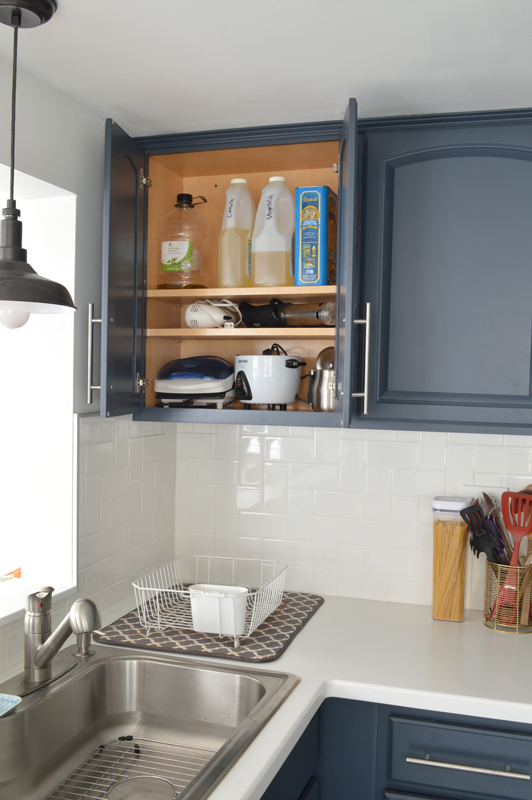 Okay so yes, there are still a few more things to do, including working with my dad to build pantry doors and the recycling center to the left of the pantry:
The shelf above where our recycling center will be houses some of our most frequently used appliances, though some of them (like the hideous toaster oven) I will eventually hide out of sight in drawers that will be part of the recycling cabinet:
I originally planned the area to be a coffee station, but the coffee maker was too tall to open and fill with water under the glass cabinet so I reluctantly moved it over here:
Not as cute, but more functional.
I'm also still on the hunt for a piece of stained glass to add some privacy and interest to our big kitchen window, which faces right into our neighbors' living room: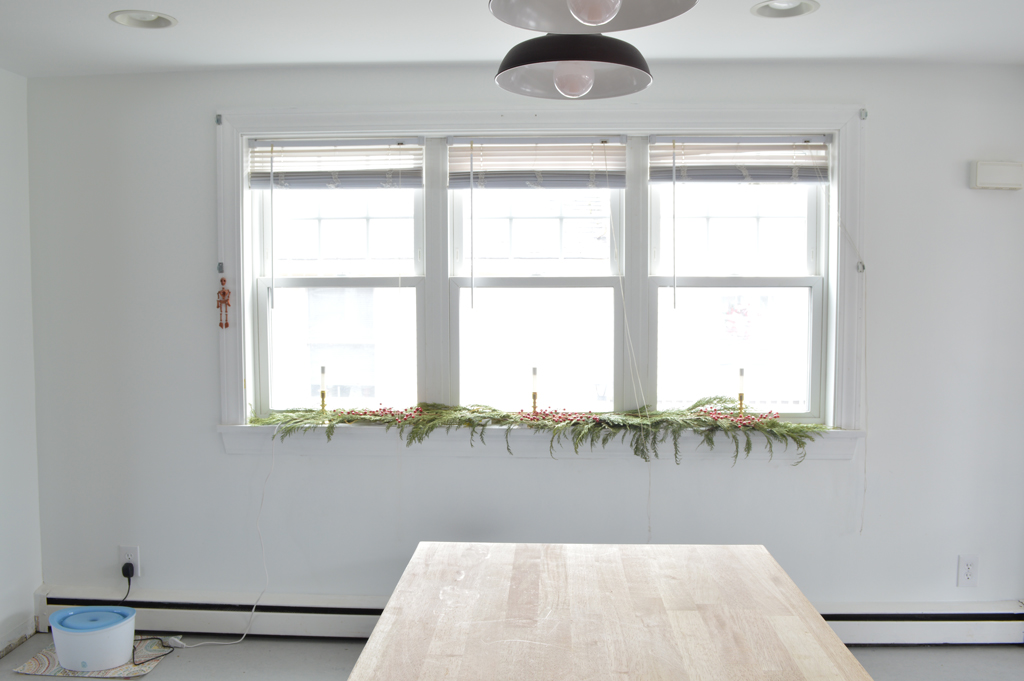 And I still have some trim/baseboard work to do. BUT, I am feeling really happy with (and proud of!) where things stand, so I wanted to celebrate being mostly done after a year of a lot of work. I know I owe you a lot of details on the new things I just shared so that will be coming in future weeks, but I didn't want to hold out letting you see the progress I made these last few weeks.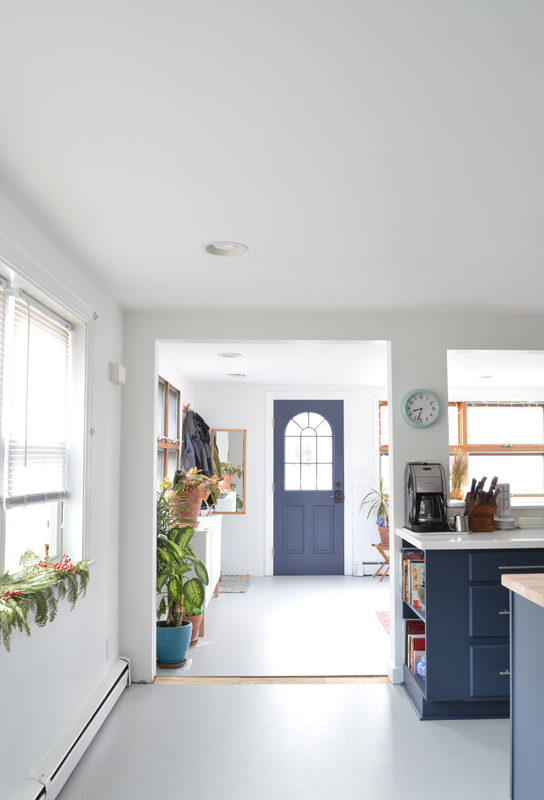 I would say it turned out pretty close to what I planned a year ago in these renderings:
The major changes were the table placement, deciding not to do stools along the passthrough ledge because it felt redundant with the table right next to it, and going with dark blue on the cabinets instead of gray.
And if you're wondering how the final budget breaks down, here you go!
TOTAL: $14,003
I originally budgeted $10,000 for the whole thing, but given that the unexpected floor and dishwasher replacements (which weren't part of my original budget) came to a total of $3,969, I'm pleased to say that I came in exactly on-budget for everything else — no small feat with a project of this size and duration! Though I'm guessing I will end up spending another ~$400 on the various finishing projects I mentioned, maybe a bit more if I find a great piece of stained glass to splurge on.
While it was harder and more expensive than I expected, it was also so rewarding. I learned a ton — how to install a dishwasher! How to apply for construction permits! How to build cabinetry! How to run electrical for new outlets! How to make my own baseboards! How to use a miter saw and brad nailer! How to ask for help when I need it! And it is so fun to look around the space and see how utterly different it looks thanks to the sweat, blood (yes), and tears (also yes) that we poured into the undertaking. Thank you for your support, encouragement, ideas, and patience over the course of the last year. I look forward to a few more kitchen posts to share details on some of the projects I just previewed, and then let's move on to the next room makeover!